Indian GDP growth slows to 7.7%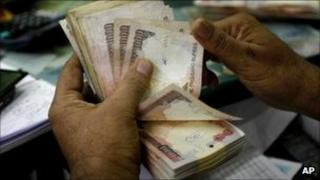 India's economy grew 7.7% in the three months from April to June, compared with the same period of 2010.
It was India's weakest growth for six quarters, but still better than had been expected.
The gross domestic product (GDP) growth figure from the finance ministry compares with the annual rate of 7.8% in the first three months of the year.
The slowdown is expected to continue as India's central bank continues to raise interest rates to control inflation.
"The latest growth number reinforces the view that although growth is slowing down, it is not collapsing as feared by some," said Ashutosh Datar, economist at IIFL in Mumbai.
Indian Finance Minister Pranab Mukherjee said he had been expecting a higher growth rate, but that given the muted recovery in the US and Europe, the figures were "not that much disappointing".
The Reserve Bank of India (RBI) has raised interest rates 11 times since March 2010. The next rate-setting meeting is on 16 September, when many economists expect rates will rise again, to 8.25%.
Inflation in July was 9.22%, which was well above the RBI's target rate of 4% to 4.5%.
"India has raised rates much faster than any other major country, but inflation is also a bigger problem than in any other major economy," said DK Joshi, chief economist at Indian ratings agency Crisil.
Construction problems
The sector breakdown showed that the construction sector had been one of the worst-performing parts of the economy.
Construction grew at an annual rate of 1.2% in the second quarter, down from 8.2% in the previous quarter, as rising interest rates and delays in planning approvals held up building projects.
Farm output rose 3.9%, which was down from the previous quarter but above the level of 2.4% in the same period last year.
The manufacturing sector grew 7.2%, an improvement from the previous quarter, but well below the 10.6% in the second quarter of 2010.
"The acceleration in trade-exposed manufacturing is encouraging, as is the steady, strong expansion in financial services," said Sean Callow, senior currency strategist at Westpac Institutional Bank in Sydney.
"The slowdown in construction is less pleasing at face value, but overall this robust report should leave RBI on track for one more 25-basis-point hike this year."
Falling confidence
The RBI is predicting growth for the whole year of 8%, but some analysts are predicting it will be nearer 7%.
While 7% is extraordinarily high by the standards of European countries that are struggling to achieve 2%, there have been warnings from economists that it would be inadequate to fund the government's attempts to deal with India's endemic poverty.
On Monday, a survey by the Indian Chambers of Commerce found that business confidence was at a two-year low.
It found that businesses had "growing apprehensions about the world economy entering into another recession", while also worrying about how rising interest rates were hitting domestic demand.