Price rises boost Gazprom profits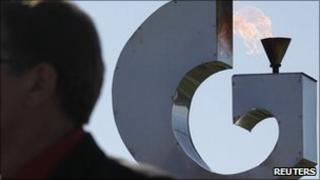 Russia's state-controlled gas monopoly Gazprom has reported a big rise in three-month profits.
Pre-tax profits for the first three months of the year came in at 591bn roubles ($20bn; £12bn), up 40% from the same period last year.
Gazprom's sales rose 38% to 1.32 trillion roubles, compared with 954.3 billion roubles a year earlier.
It benefited from recovering demand and higher prices in Europe, its biggest market by volume.
Gazprom said in a statement that its results were driven by strong core natural gas sales and price increases, while its diversification into power also helped.
The figures mean the firm is on course to break its annual profits record, set in 2010.
Gazprom's results were helped by big increases in prices to domestic users, including a 14% rise for European customers, whose demand was 40% up on the previous quarter.
It also increased its volumes sold by 12% over the three-month period.
Gazprom was born out of the former Soviet Union's Gas Industry Ministry and was partly privatised in 1993.
The Russian government has kept a stake of just over 50% in the company, which is seen as a symbol of the country's welcome of "responsible capitalism".