Macarthur Coal backs Peabody and ArcelorMittal's bid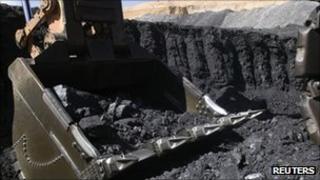 Australian miner Macarthur Coal has backed a revised takeover offer from Peabody Energy and ArcelorMittal.
Peabody and ArcelorMittal raised their offer by 3% to A$16 per share, valuing the deal at 4.8bn Australian dollars ($5.2bn; £3.2bn).
Macarthur, the world's largest producer of pulverised coal, has been a takeover target in the wake of growing demand for coal.
The miner has fended off four takeover bids in the last years.
"This is a major step forward in our acquisition process," Gregory Boyce, chief executive of Peabody Energy said in a statement.
Few options?
Peabody and ArcelorMittal had made a formal offer for the Australian miner on 1 August.
Macarthur said that since then "a number of parties" had shown interest in the company and took a look at its business.
However, despite the interest, none of those companies made a rival bid.
"Although it remains possible that a superior proposal might be made, none have emerged to date and there can be no assurances that any will emerge," Macarthur said in a statement.
Analysts said in the absence of any rival bids, Macarthur does not have many options.
"How long can you keep a potential bidder out there. At the end of the day Macarthur has decided to move on." Jonathan Barratt of Commodity Broking told the BBC.
Consolidation
Peabody is the largest coal company in the US, while ArcelorMittal is the world's largest steel maker. Analysts said the deal is likely to benefit both companies.
They explained that the acquisition of Macarthur will help Peabody increase its presence in the coal market even further.
"When you look at the large mining companies, the trend is to expand and reduce the concentration of rivals. That gives them an edge." Mr Barratt said.
"The attraction is for greater profits through greater concentration of prices," he added.
As for ArcelorMittal, analysts said the deal will help it secure more supplies of pulverised coal, a key commodity for making steel, at competitive rates.