Italy drops proposed tax on high earners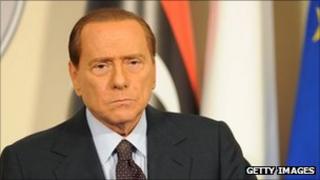 The Italian government has dropped plans to introduce a tax on high earners, Prime Minister Silvio Berlusconi's office has said.
The "solidarity tax" on those earning more than 90,000 euros (£79,000) was one of several new measures announced earlier this month as the government aims to balance Italy's budget by 2013.
The announcement came after senior ministers met Mr Berlusconi on Monday.
The Bank of Italy has warned there must be no reduction in the austerity plan.
The government said it would instead step up measures to fight tax evasion.
In a statement issued after several hours of talks, the prime minister's office said it would also exclude years spent at university and military service from retirement age calculations, delaying retirement for some people.
There are also plans to spare the governments of small towns from cuts.
But the statement made no mention of any increase in VAT, which had been widely mooted in the media.
Although the EU had welcomed Italy's proposed new austerity measures, the country's largest union, the CGIL, has criticised the plan and threatened strike action.
The plan is also reported to have caused tensions within the centre-right coalition government.
The Bank of Italy has warned that the government must still save a combination of 45.5bn euros ($65.5bn; £40.2bn) in higher taxes and lower spending.
The deputy head of the Bank of Italy, Ignazio Visco, told a parliament committee that the overall austerity measures "cannot be reduced".