Bank regulation risks recovery, says Angela Knight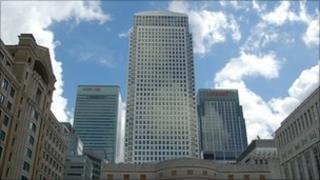 UK banks need to focus on lending and paying back taxpayers and should not be distracted by more regulation, the head of the British Bankers' Association has said.
Angela Knight said regulatory change could undermine the recovery.
Her comments come ahead of the Independent Commission on Banking's final recommendations, due next month.
The commission has already recommended ring-fencing banks' retail operations from their investment banking arms.
She was joined by John Cridland, director general of the CBI.
"Taking action at this moment - this moment of growth peril, which weakens the ability of banks in Britain to provide the finance that businesses need to grow - is just to me barking mad," he said in an interview in Tuesday's Financial Times.
Last month, Business Secretary Vince Cable indicated that banks could still be forced to separate entirely their High Street businesses from their investment divisions.
Bank bailouts
"From now on, the UK's efforts must be focused on the economic recovery," Mrs Knight said.
"This means allowing the banks to finance the recovery first, pay back the taxpayer next, and only then turn to further regulatory change.
"If more regulation remains at the top of the list, then this will only have the effect of risking the recovery which is so essential to our future."
The banking commission was set up by the government last June to review the UK banking sector after bailing out some of the UK biggest banks during the financial crisis.
However, the government is under no obligation to implement its recommendations.
"The government set up the ICB to ask the difficult questions that weren't asked before the crisis and this is exactly what the commission is doing," the Treasury said in a statement issued in response to Mrs Knight's comments.
"We look forward to receiving the final report on 12 September."
Higher costs
In its interim report published in April, the commission said that, in the build-up to the crisis, lenders and borrowers took on "excessive and ill-understood risks", and that implicit taxpayer support for the banks encouraged "too much risk-taking".
As a result, it recommended that retail banks should be ring-fenced from investment banks and have their own capital reserves, so they are protected from losses made by traders on stock markets, for example.
It also said that taxpayers should not be liable for future losses, and that depositors should get their money back before creditors.
These measures would lead to additional costs for banks.
Mrs Knight said in the light of the continuing eurozone debt crisis and stock market volatility, the focus for banks should be on the recovery, not on dealing with more regulation.