RBS agrees to end work for Belarus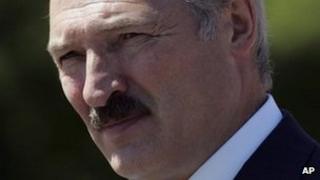 Royal Bank of Scotland (RBS) has said it will no longer do fundraising work for the Belarus government following a campaign by human rights groups.
Free Belarus Now and Index on Censorship argued that companies such as RBS were helping to support the regime of "Europe's last dictator".
Index said that RBS and other banks had sold $1.85bn (£1.1bn) worth of government bonds over the past year.
The decision followed a meeting at the bank's headquarters last week.
"Given sanctions, the deteriorating political situation in Belarus and the fact that it has reneged on key elements of the IMF programme, RBS has ceased any type of capital-raising for or on behalf of the Belarus Republic, and we have no plans to change that position until these issues have been resolved," said RBS in a statement.
"In assessing where we do business, we have a responsibility to consider a number of factors, including social and ethical issues and compliance with the letter and spirit of all international sanctions."
The European Union has frozen the assets of President Lukashenko and a number of other officials and imposed a travel ban on them due to the deteriorating democratic and human rights situation in the eastern European country.
There is also an arms embargo and an export ban on materials that might be used for internal repression.
'Clear signal'
Belarus is facing an economic crisis and is in talks with the International Monetary Fund about a possible loan, but the organisation wants to see major changes in the economy before extending financial help.
"We're delighted that RBS has heeded our calls to stop acting as a broker for authoritarian President Lukashenko," said Mike Harris, head of advocacy at Index on Censorship.
"This couldn't come at a more crucial time. The government of Belarus needs nearly $1bn a month in foreign capital. RBS has sent a clear signal not to risk investing in a regime that violates fundamental human rights and may not last."
According to the IMF, Belarus is experiencing a financial crisis, including rampant inflation, because of excessive credit growth and wage increases that it could not afford.