House prices: NE England leads falls says Land Registry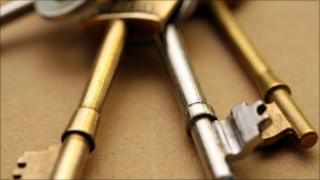 House prices in the North East of England fell by 8.8% in the year to July, as figures show that every region of England and Wales, except London, experienced an annual drop.
Prices in London have increased by 1.3% since July 2010, according to the figures from the Land Registry.
Overall, the value of flats and maisonettes dropped most sharply.
The average home in England and Wales cost £163,049 in July, up by 1.3% in the month but 2.1% down on a year ago.
"This is the largest monthly movement since January 2010," the Land Registry said.
'Storm'
In the North East of England, the average home cost £101,143. This was a fall of 2.3% compared with June.
The biggest monthly rise in prices was in the South West of England, which saw an increase of 2.2%.
"The regional trending of prices, with London weathering the storm and the rest of the UK more vulnerable, is an accurate reflection of where the market is at," said Chris Gardner of mortgage website Obligo.co.uk.
Recent research by the Council of Mortgage Lenders showed 827,000 mortgage borrowers in the UK were in negative equity. This is where their loan is bigger than the value of their house, and for many is the result of falling prices.
The issue was not as acute as in the 1990s, but there could be an issue for some people looking to move home in regions with falling prices, especially if they bought their homes during the boom.
Peter Rollings, chief executive of estate agent Marsh & Parsons, said: "The real indicator of the health of the housing market is the number of sales actually taking place - and this makes for gloomier reading when compared to last year, with transactions down over 10%.
"Securing a mortgage is still the main obstacle preventing first-time buyers getting on the property ladder. Until this situation improves, we will not see a concerted improvement in transactions and house prices outside London."
Building
Meanwhile, fewer homes are being built in the UK at any time since the 1920s, according to the Home Builders Federation (HBF).
It said that an "acute housing crisis" was getting even worse owing to falling numbers of planning permissions being granted.
However, the Local Government Association said 80% of major residential applications were given the go-ahead in the year to the end of March, and a new streamlined planning system would encourage more regeneration.
A week ago, the Centre for Economic and Business Research said forecast that house prices would accelerate to a 4% rise in 2015, owing to shortage of new homes.