Santander confirms profits hit by PPI compensation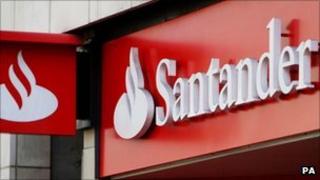 Santander UK has confirmed that pre-tax profits have halved compared with the same period a year earlier after putting aside £731m for compensating customers who were mis-sold payment protection insurance (PPI).
Its pre-tax profit for the six months to 30 June was £549m, down from £1.2bn a year earlier.
Most of the UK's largest banks are paying out PPI compensation.
Lloyds Banking Group has set aside £3.2bn, Barclays £1bn, and RBS £850m.
Despite the large drop in the headline profit number, Santander UK said it was "maintaining its strong track record of profitability and strengthening its balance sheet".
Santander UK is the British arm of Spanish lender Banco Santander.
It bought Abbey National in 2004, Bradford & Bingley in 2008, and Alliance & Leicester in 2010.
PPI is supposed to cover loan repayments if someone becomes ill or loses their job. But it has emerged that many of the policies were mis-sold, either because people were not aware they were paying for the insurance or because they would not be covered.
In April, the banking industry lost its High Court challenge to new rules on the sale of PPI.
Among other things, the rules require sellers of PPI polices to review all their past sales to see if their customers have a claim for mis-selling, whether or not they have actually complained.
Correction: An earlier version of this story erroneously stated that Santander UK's provision for payment protection insurance claims had increased from £538m to £731m. There has been no change in the amount it has put aside since last month's statement. The £538m is post-tax and the £731m is the pre-tax figure for their provision.