UK GDP: Q2 economic growth figure left unchanged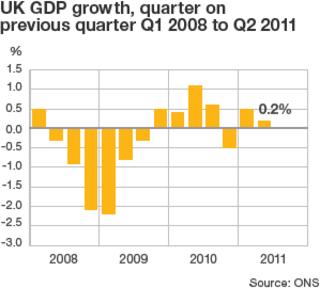 The UK economy grew by 0.2% in the second quarter of 2011, the second estimate from the Office for National Statistics (ONS) has confirmed.
Growth from April to June was restricted by one-off factors including the extra bank holiday in April for the royal wedding and the Japanese tsunami hitting the import of car parts.
Industrial output fell 1.6% during the quarter, but services output rose 0.5%.
Compared with a year earlier, the economy expanded by 0.7%.
The ONS said that without the one-off factors, growth between April and June compared with the previous quarter could have reached 0.7%.
Growth from January to March totalled 0.5%.
The UK economy's limited economic expansion comes as consumer spending continues be affected by a number of factors, including higher inflation, job losses and limited wage rises.
Inflation in July, as measured by the government's preferred Consumer Prices Index, increased to 4.4% from 4.2% in June. This is more than double the 2% target rate.
Meanwhile, the number of people unemployed in the UK rose by 38,000 to 2.49 million in the three months to June.
"We are expecting a rebound in Q3 purely because of the unwind following the royal wedding bank holiday in April," said Investec economist Philip Shaw.
"But the outlook for underlying growth in the second half looks uncertain.
"There is a risk that the economy continues to slow down. That's not our central view but it is a risk."
The data used to formulate the ONS's second estimate is less extensive than usual, because its staff are now working on changes to the annual Blue Book guide to the economy.
As a result, figures on income and expenditure, which are typically added to help calculate the second estimate, are not included.
The ONS's first estimate, which for the second quarter of 2011 was released last month, is formulated just from output data.