Philippine Airlines cuts 2,600 jobs to curtail losses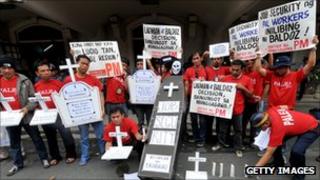 Philippine Airlines (PAL) has announced 2,600 job cuts as it looks to restructure its operations in a bid to reduce losses.
The airline is planning to outsource jobs in departments such as catering and passenger handling as part of its turnaround plan.
The carrier said staff affected by the cuts can still be employed by the firms contracted to provide those services.
Philippine Airlines reported losses of $10.6m for the first quarter.
Jaime Bautista, president of Philippine Airlines, said the restructuring was "a painful but necessary decision to ensure PAL's viability and long-term survival."
The outsourcing is expected to reduce the carrier's operating costs by up to $15m (£9m) a year.
However, a union for airline employees has rejected the plan and there have been concerns over a possible strike by its members.
Refleeting
Philippine Airlines currently operates 36 jets and Mr Bautista said the carrier is planning to add more planes to its fleet.
The airline is expected to take delivery of two Boeing 777-300ER and four Airbus 320 jets next year.
"This will allow us to expand our presence in our current markets through increased frequencies and introduce new destinations, especially in the booming Asian region," he said.
However, as volatile fuel prices continue to hurt profits of airlines, Mr Bautista added the company needed to ensure that it upgrades its fleet with "more fuel efficient" aircraft in order to be more competitive.
"This will provide us the avenue for bringing down unit costs and improve our ability to price more competitively," he said.