Apple's Asian rivals see stock lift as Steve Jobs quits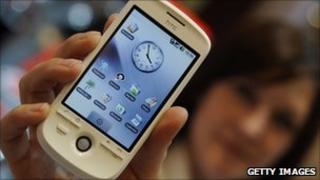 Apple's two main rivals in Asia got a lift in their share price after Apple boss Steve Jobs stepped down.
Taiwan-based phone maker HTC rose 1.3%, while South Korea's Samsung Electronics gained 2.4%.
The firms compete with Apple in the smartphone and tablet-PC sector, and have been involved in legal battles with Apple over patent rights.
Analysts said that Mr Jobs' departure may make life easier for Apple's rivals.
"Maybe this will make the playing field a bit more level," Bryan Ma of IDC Asia-Pacific told the BBC's Asia Business Report.
However, it was not all good news, and shares of Foxconn, which manufactures products for Apple, were down 4.6%.
'Driving force'
Apple's creativity is seen as one of the key reasons behind its success. Mr Jobs, the founder of Apple, is seen by industry watchers as the main inspiration behind innovation at the company.
Analysts said if innovation at Apple were to suffer in the absence of Mr Jobs, it could provide an opportunity for rivals to catch up with the tech giant.
"Suddenly if that driving force is gone, there is a theoretical risk that they may lose the competitive edge," Mr Ma said.
However, he added that Mr Jobs' departure was "by no means, a guarantee of success" for its rivals, which would need to be more creative with their products in order to take a bigger share of the market.
"There are still a lot of innovative and creative people who will remain at Apple regardless of Mr Jobs' departure," Mr Ma said.
"The company has a unique culture, which is not easy to replicate."