Libya crisis: Doha meeting seeks to raise $2.5bn aid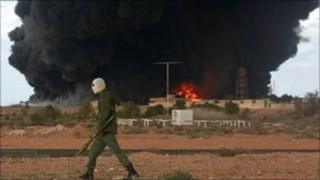 A donors' meeting is being held in Doha, capital of Qatar, to raise funds for Libya's National Transitional Council (NTC).
The target is to raise $2.5bn (£1.5bn) to pay the salaries of government workers as well as funding treatment for people injured in the fighting.
Countries represented are the US, the UK, Turkey, Germany, France, Italy and Qatar.
The fighting has brought the economy to a near standstill.
'Responsibilities'
Production of oil, Libya's main export, has fallen from 1.6 million barrels a day to fewer than 100,000.
"The countries in the contact group must ensure that the NTC is provided with the required resources and support to assume its responsibilities to the Libyan people," Qatar's minister of international cooperation, Khalid al-Attiyah, said.
But with the potential to regain the oil wealth, analysts say that in the medium term it may not be foreign money that Libya needs.
"It's a very rich country with very poor people," said David Hartwell from IHS Global Insight.
"What it needs is transparency, better and more equitable investment, and it needs to iron out the discrimination between the [richer] west of the country and the [poorer] east of the country."
Further meetings
The meeting is being held in Qatar, which was the first Arab state to support the no-fly zone in Libya.
Qatar has also become a base for rebel leaders, offering them help in marketing oil from rebel-held areas and giving them a place to voice their opinions against Col Muammar Gaddafi.
Speaking in Doha, NTC Prime Minister Mahmud Jibril announced the conference and said Libya's transition "begins immediately".
A meeting of senior diplomats is also due to take place in Istanbul on Thursday, at which ways of helping with reconstruction and transition into a democratic state will be discussed.
French President Sarkozy hopes that the Istanbul meeting will finalise plans for a "Friends of Libya" conference to be held in Paris in the next 10 days, which will include heads of state and international organisations.