Heineken shares slump on poor US and Europe outlook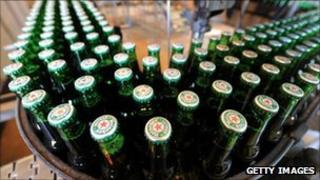 Shares in Heineken closed down 6.5% after Europe's top brewer warned demand for its beer in its core Europe and US markets will remain "challenging" this year.
The firm revealed weaker-than-expected net profits of 605m euros ($872m; £529m) for the first half of the year.
Underlying operating profits were 11% higher than a year ago, short of market expectations of a 17% rise.
Business was better in Latin America, Sub-Saharan Africa and Asia-Pacific.
The Dutch company has been rolling out its main Heineken-brand globally, helping demand for the beer outperform its other products.
Heineken beer was launched in Mexico in March, where the company controls 40% of the market after buying the brewing business of local firm Femsa last year.
The company also opened its first Heineken brewery in India this month.
However, despite increased spending on marketing, demand in its core markets remains subdued, particularly in bars and cafes.
"Volume development in parts of Europe and the USA is expected to remain challenging given the current economic uncertainty, high unemployment and ongoing weak consumer confidence," the firm said in its interim results.
Heineken also said that it faced rising input costs, although it has hedged much of the impact for this year.
Shares in Heineken Holdings closed the day down by 1.98 euros, or 6.47% at 28.54 euros.