Vietnam's inflation rate rises to 23%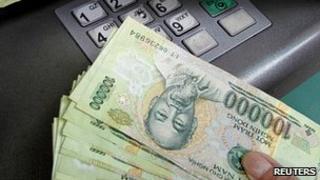 Vietnam's inflation rate rose for the 12th month in a row in August, driven by higher food and fuel costs.
The country's consumer price index was up 23% from a year earlier, which is the highest rate of inflation in Asia.
According to the government's General Statistics Office, food and drink prices rose 34%.
However, some economists say inflation may have peaked this month because of government measures to rein in credit.
Vietnam's central bank has raised borrowing costs several times this year and also pledged to cut the amount banks are allowed to lend.
Kim Eng Tan, a director at S&P's sovereign credit rating unit, expects prices to decline gradually partly because of these moves.
"As long as the government continues with this policy of credit restriction, inflation ought to calm over time," he said.
Vishnu Varathan, an Asia economist with Capital Economics, shared that view, adding a lot still depended on the state of the global economy.
"Inflation will taper off gradually although it may remain in the double digit region until the first half 2012," he said.
Prices have been under pressure after Vietnam raised power prices and devalued its currency in February.
The government has also announced plans to increase minimum wages starting on 1 October.
Vietnam's benchmark stock index has lost more than 17% of its value this year on concerns that the high rates of inflation will hurt the economy.