Standard & Poor's president Deven Sharma steps down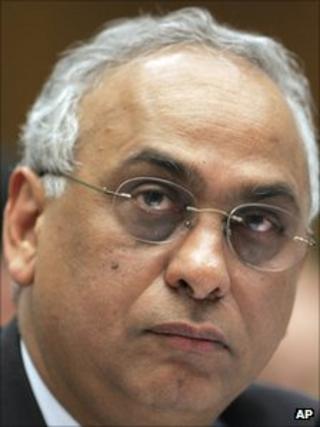 Standard & Poor's (S&P) president Deven Sharma has stepped down just weeks after the agency downgraded its credit rating of the US.
He will be replaced by Douglas Peterson, chief operating officer of Citibank with effect from 12 September, the agency said.
S&P's parent company McGraw-Hill will retain Mr Sharma until the end of the year to help with a strategic review.
S&P has been criticised by US authorities for the credit rating cut.
Timothy Geithner, the US Treasury Secretary, in an interview with NBC said the agency had shown terrible judgement and handled themselves poorly.
The Treasury also pointed out a $2tn error - conceded by S&P - in the agency's initial debt forecast calculations that provided part of the justification for its decision to strip the US of its top AAA rating.
The company is also reported to be under investigation by the US Department of Justice for AAA-ratings that it assigned to complex mortgage investments during the housing boom that later lost money for investors.
"S&P will continue to produce ratings that are comparable, forward looking and transparent." the company said in a statement.
Business split
Last year, the company announced that it was splitting its business into two separate entities, the credit rating service and McGraw-Hill Financial.
The company said that as the two separate businesses took shape, Mr Sharma had decided to pursue other opportunities.
"Deven assisted us with the creation of these two high-growth segments and was then ready for new challenges," it said in a statement.
"Accordingly, we began a process to identify a new leader for S&P."
However, Mr Sharma - who joined McGraw-Hill in 2002 and has been S&P's president since 2007 - will be given a "special assignment" in the parent company's strategic portfolio review until the end of the year.
McGraw-Hill has already agreed to sell BusinessWeek magazine and its small number of television stations, and is also considering the sale of its textbook division.
Two shareholders - the Ontario Teachers' Pension fund and hedge fund Jana Partners, who together own 5.6% of McGraw-Hill - have publicly called for S&P to be sold off.