Manchester United unveils two new commercial deals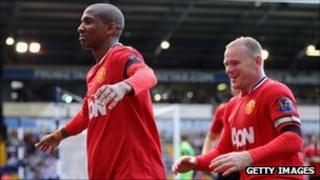 Manchester United has signed two new commercial deals, with logistics company DHL becoming the club's first training kit sponsor.
The four-year agreement will see United display DHL's logos for training sessions, except those before European games. US insurance group Aon will remain the club's main shirt sponsor.
The DHL contract is worth £40m for the club, the BBC understands.
United has also signed a deal with Vietnamese mobile phone group Beeline.
Flotation plan
Announcing the DHL agreement, United's chief executive David Gill said: "This deal breaks new ground in the English game.
"We are delighted that DHL has chosen to pioneer training kit sponsorship with the club."
The three-year arrangement with Beeline - the value of which has not been disclosed - will see Beeline's customers in Vietnam, Cambodia and Laos be able to watch United's goals, interviews and news reports.
Commenting on the Beeline announcement, United's manager Sir Alex Ferguson said: "Everyone knows about the passion of our fans in that part of the world, and this deal makes it a lot easier for us to keep in touch with them."
Manchester United has an estimated 16 million supporters in Vietnam alone.
Last week, the BBC learned that United planned to float a minority stake in the club on the Singapore Stock Exchange.
The share flotation could raise between £400m and £600m.