More than one in 10 city centre shops vacant, says BRC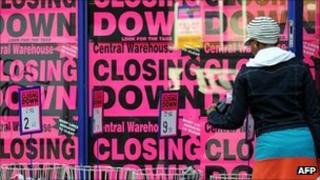 More than one in 10 town and city centre shops across the UK were vacant at the end of May, the British Retail Consortium (BRC) has said.
Its study found the average vacancy rate was 11.2%, rising to 17.1% in Northern Ireland, the worst affected nation or region.
Wales was next, with a rate of 13.4%, with the north of England on 13.1%.
The BRC says consumer spending is being hit hard by higher inflation, job losses and low wage growth.
Its report also found that overall footfall - the number of people entering shops - was 1% lower in July than a year earlier.
Wales was hardest hit, seeing a 9.2% fall, followed by the West Midlands, down 6.6%, and the east of England, 6.2% lower.
By contrast, footfall rose by 1.6% in London, increased 0.4% in the South West, and was up by 0.2% in Scotland.
Stephen Robertson, British Retail Consortium director general, said: "This is the first time we've been able to publish footfall and vacancy figures in this level of detail and it shows stark differences in retail health between some of the UK's nations and regions.
"Generally, the parts of the UK where the public sector is a bigger proportion of the economy are the ones where customer spending is most likely to be hit by worries about job prospects and cuts, meaning people are shopping less and more retail businesses are failing."
The BRC report comes after official figures released last week showed that retail sales grew only slightly in July, up 0.2% from June.