China Construction Bank's profit surges in first half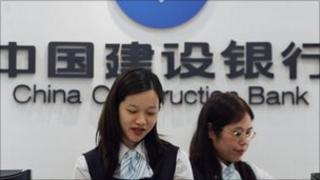 China Construction Bank has reported record profit for the first-half of the year on higher loans and fees.
China's second-biggest bank by market value said profit rose 31% to $14.5bn (£8.8bn) from the same time a year earlier.
The bank's profitability was helped by an increase in the cost of borrowing in the country.
The data comes at a time when Chinese banks have been under pressure to reduce lending.
Biggest worry?
China's economic growth in recent years has been powered by a credit boom in the country. Chinese banks lent record sums of money in the past few years in an attempt to boost growth during the global financial crisis.
However, there have been concerns about some of those loans turning bad.
Last month, ratings agency Moody's warned that bad debts held by local governments in China are a far bigger problem than first estimated.
Analysts said that despite the robust numbers, exposure to bad loans remains a big threat to the country's banks.
"Loans to local government financing vehicles are still the biggest worry right now," said Sheng Nan, a Shanghai-based analyst with UOB-Kay Hian.
"It has the potential to be very serious, and we will be asking for more details on this."
Jim Antos, a banking analyst at Mizuho Securities warned that a credit shock may take place starting next year as banks demand borrowers for payment.
"It takes a while for bad loans to pile up," he said. "Loans don't go bad overnight."
Stock woes
Smaller rivals, Bank of Communications and China Minsheng Bank also reported record profits earlier this week.
Bank of Communications, the nation's fifth-biggest bank, said second-quarter profit rose 32% to $2.1bn while Minsheng Bank's first-half profit jumped by a better-than-expected 57% to $2.2bn.
However, despite these numbers, concerns over further monetary tightening by the Chinese government have put pressure on stocks of Chinese banks.
Banking shares traded in Shanghai and Hong Kong have lost an average of 20% over the last three months.
"From a stock market point of view, Chinese banks are fully participating in the world's problems," Mr Antos said.
"But from an economic point of view its not a problem at this point of time. Not yet."