Analysis: Hewlett Packard's big strategic U-turn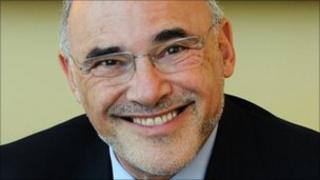 The world's largest computer maker, Hewlett Packard, plans to sell its personal computers business, ditch its line of smartphones, and buy UK software company Autonomy for $11.7bn (£7.1bn) - but how does it all fit together?
For Hewlett Packard, it is a dramatic strategic turnaround.
In January this year, HP was gearing up for a huge surge in the market for consumer products.
HP would become "as cool as Apple," promised its new chief executive Leo Apotheker when I interviewed him on the sidelines of the World Economic Forum in Davos.
In February, he unveiled the Touchpad and a new range of "Pre" smartphones, based on the WebOS software that HP got when it bought mobile phone maker Palm. This was not just about challenging Apple's iPad and iPhone, and the many mobile devices using Google's Android software. WebOS, he said, would soon appear on PCs and printers, creating a new software ecosystem to excite developers.
In March, Mr Apotheker outlined a sweeping vision for HP being the "platform for the cloud and connectivity," with HP setting itself up to become one of the world's top providers of cloud computing services.
HP, Mr Apotheker implied, was the one company capable of combining cool design with security and reliability, to straddle the consumer space and corporate computing.
Beige is profitable
No more. Instead of becoming cool, HP is decidedly turning corporate beige again.
The thing is, beige is very profitable.
HP's strategic turnaround is not an attempt to move the company into Mr Apotheker's comfort zone of enterprise computing (before running HP, Mr Apotheker was chief executive at German enterprise software giant SAP).
Rather, it is a sign of the brutal competition in the computer industry.
Yes, HP was - and still is - the world's biggest maker of personal computers. It has a 17.6% market share, well ahead of second place Dell (12.5%).
But the industry's profit margins are razor-thin; it's the result of technology commoditisation, where there is not much left to distinguish one PC from another. Only Apple has a brand that consumers perceive as so desirable that they are happy to pay a hefty premium for what in the end are perfectly ordinary computers.
Doing an IBM
Commendably, Mr Apotheker did not take long to realise that both the Touchpad and the Pre smartphones flopped with consumers, and that HP would struggle to out-Apple Apple.
So he is taking the bold move to "do an IBM".
When the company that invented the PC was struggling, it sold most of its hardware business to China's Lenovo and built its business around highly profitable services and hardware for enterprise customers.
HP will do the same, focusing on services, servers and software (although it will keep its printer business, which serves both consumers and corporations).
This is where the purchase of UK software firm Autonomy fits in.
Companies have one big IT problem right now: how to process, store and understand the rapidly growing data deluge that is flooding in from ever more connected devices and web services.
It's called "business intelligence" or "business analytics", and Autonomy - best known for software that searches and organises vast amounts of unstructured data - has been pushing hard to make its name in the field.
Can HP elephant dance?
Mr Apotheker's strategy is not without risk.
For starters, he has no buyer yet for HP's computer business, the "Personal Systems Group" (PSG). He hopes to find one over the next 12 to 18 months.
Given today's speed of computing, that's a couple of generations away, and PSG will suffer.
Talent may leave; corporate customers may hesitate. IBM's deal worked because it had lined up a willing buyer.
And while Mr Apotheker knows all about enterprise computing, any IT firm would struggle to integrate successfully a large new division like Autonomy.
It can be done. The man who saved IBM, Lou Gerstner, put it thus: "Who says elephants can't dance?"
Mr Apotheker may be remembered as the Lou Gerstner of the 21st century.
But to succeed, Mr Apotheker will need a lot of luck, and very patient shareholders.