UK public sector borrowing sees big fall in July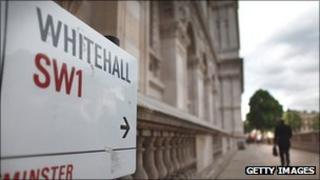 Public sector net borrowing (PSNB) in the UK during July was just £20m, down from £3.5bn a year earlier, helped by higher tax receipts and the levy on banks' balance sheets.
July's PSNB figure was better than analysts' forecasts.
The PSNB total since the start of the financial year in April now stands at £40bn.
The Office for Budget Responsibility (OBR) forecasts that PSNB will total £122bn in 2011-12.
The levy on banks' balance sheets brought in an extra £660m in the month.
Larger corporation tax receipts and lower spending by local government also helped to improve the public finances.
Improving trend
The coalition government and Chancellor George Osborne have pledged to eliminate the UK's budget deficit by 2015. The deficit hit 11% of GDP last year.
But growth in the economy has been weak since autumn 2010 and some economists have expressed doubts whether the government can meet its target.
However, analysts said July's borrowing figures were encouraging.
"Revenues are stronger, spending growth has slowed as it should do," said Michael Saunders at Citi.
"The deficit won't fall as quickly as I'd hoped six months ago, but it is still clearly falling, and that's in quite marked contrast to other high deficit countries.
"The UK is the only high deficit country that is on the way back to fiscal sustainability."
'On course'
And David Kern, chief economist at the British Chambers of Commerce (BCC), said the borrowing figures for July were much better than expected.
"Though it is still possible that the government may overshoot the borrowing target for the year, any excess is likely to be small and considerably less than might have been expected," he added.
"Making allowances for lower growth and for the worsening international background, the government's deficit-cutting programme is still on course."