Rents 'reach new high' as demand remains strong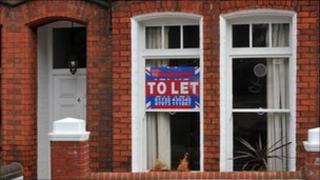 Private rents in England and Wales rose to an average £705 per month in July, according to a survey by LSL Property Services, a firm of letting agents.
The increase of 0.6% last month was the sixth monthly increase in a row.
LSL said the continued rise meant average rents were now £29 a month higher than a year ago.
Rents have risen fastest in London, where they are now 7.1% higher than a year ago, at an average of £1,009 per month.
"Rents are on an upward trajectory, and it is unlikely that tenants will gain respite any time soon," said David Newnes, of LSL.
"Demand from thousands of frustrated buyers each month is underpinning buoyant competition for rental homes, enabling landlords to increase prices."
Bank of mum and dad
Mr Newnes said the phenomenon of parents providing a deposit for their adult children to buy a home was now spreading to the deposits required by landlords.
"As rents climbs, so does the size of the average deposit a new renter must find," he said.
"Thousands of new buyers each year rely on the bank of mum and dad to help fund a deposit.
"However, now it is becoming increasingly commonplace for renters to get parental help to fund their first deposit on a rental home, with the typical one-month deposit on a property in London more than £1,000."
Jonathan Moore, of Easyroommate, said tenants were caught in a vicious circle.
"First-time buyers cannot get mortgages, so demand for rented homes soars," he said.
"Rents shoot up, tenants find it even harder to save a deposit to buy, and rental demand strengthens further."
The rental website Citylets reported recently that in Scotland, average private rents had reached £663 a month in the second quarter of the year.
This was the highest level it had recorded since the third quarter of 2008 and was partly due to demand being boosted by people who could not buy a home instead.
House prices
The latest UK house price forecast is unlikely to cheer those looking to get on the property ladder.
The Centre for Economics and Business Research (CEBR) said that it expected the price of the average home to fall in 2011, but then rise at an accelerating pace in the following years.
It predicted that a shortage of homes would push prices up by 2.4% in 2012, rising to a 4% increase in 2015.
"We forecast an average of 110,000 new homes to be built every year over the medium term," said CEBR economist Shehan Mohamed.
"This is significantly lower than the 225,000 homes that need to be created every year to keep pace with current housing needs, population growth and the trend towards reduced household sizes."