RBS cuts some customers' ATM access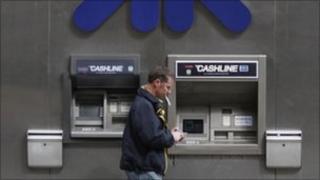 Royal Bank of Scotland (RBS) is to stop nearly a tenth of its account holders using cash machines owned by rivals.
This will affect nearly a million people with basic bank accounts that do not offer overdrafts or cheque books.
They will only be able to withdraw money from RBS, NatWest, Tesco or Morrisons cash machines, or at Post Office branches over the counter.
RBS blamed its decision on its inability to recover the cost of its customers using other banks' ATMs.
"It is unsustainable for us to offer free access to other bank ATMs for basic accounts as we face a charge per bank transaction, which needs to be recovered elsewhere," RBS said.
An industry source suggested that the charge, which had previously been higher, was now 24 pence. RBS said it could not disclose a figure for contractual reasons.
20,000 ATMs
Watchdog Consumer Focus said the move was "a kick in the teeth" for customers with basic accounts.
"People living in rural areas deserted by bank branch closures may not have the option of other ATMs nearby," it said.
RBS says it has 12 million account holders.
The ones with basic accounts, which used to be called Step or Cash accounts, will find they are restricted to a narrower choice of ATMs during the next two months.
The bank pointed out that they would still be able to get cash from nearly 20,000 different outlets.
Lloyds already restricts the ability of its basic bank account holders to use "away" cash terminals.
Last year the Nationwide building society told its customers with cash card accounts that they would have to take out a minimum of £100 if they used the counter service in its branches.
And HSBC basic account holders cannot make cash withdrawals at the counter, though they can make other transactions.