Bank of England MPC unanimous in holding interest rates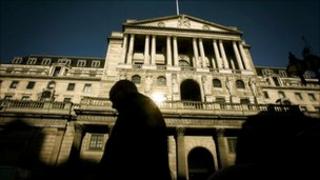 All nine of the Bank of England's Monetary Policy Committee (MPC) voted to keep interest rates on hold at its August meeting, minutes have shown.
Two members who had regularly voted for an increase to ward off rising inflation ditched their stance in the face of a weaker economic environment.
The vote means interest rates are likely to stay at the current record low of 0.5% for the foreseeable future.
The Bank of England has held rates there since March 2009.
Official figures have shown that the UK economy has weakened as 2011 has progressed, with growth of 0.5% in the first quarter of the year, slowing to 0.2% between April and June.
'Heightened tensions'
Minutes from the monthly meeting showed MPC members Spencer Dale and Martin Weale voted to maintain rates rather than raise them. In the past few months, both have been voting for higher borrowing costs.
One MPC member, Adam Posen, continued to vote for a further £50bn of stimulus through the programme of quantitative easing (QE).
QE is the policy of injecting new money into the financial system to try to boost the economy.
The Bank of England has so far agreed to spend £200bn on QE.
"The hawks have thrown in the towel at last," said Nida Ali, an economic adviser to accountants Ernst & Young.
"More quantitative easing has gone from being a mere back-up option to being a genuine possibility in the near future."
On Tuesday, the latest official figures showed that that rate of consumer price inflation rose to 4.4% in July, still well above the target rate of 2%.
Some MPC members are still concerned about price pressures, but the minutes state: "The slowing in world demand growth and the heightened tensions in financial markets meant that the balance of risks to the medium-term inflation outlook had clearly shifted to the downside."
Victoria Cadman of Investec, said: "I'm particularly surprised at the minutes... I really hadn't expected to see Dale or Weale change their position. The tone of the minutes is particularly dovish - it certainly pushes back the possibility of rate hikes well in to the distant future."