Bank shares fall as Merkel-Sarkozy debt talks disappoint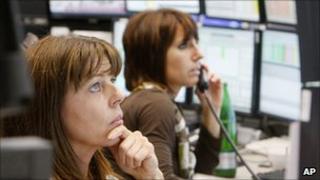 European bank shares have fallen after Franco-German plans to tackle the euro debt crisis underwhelmed investors.
Barclays fell 4.2%, RBS 3.8%, Deutsche Bank 2.8% and Societe Generale 2.5%.
A tax on financial transactions, promoted by German Chancellor Angela Merkel and French President Nicolas Sarkozy on Tuesday, also hit the shares of the operators of leading exchanges.
NYSE Euronext, owner of several continental bourses, was 4.7% lower at the close of trading.
Shares in Deutsche Boerse fell 4.4% and the London Stock Exchange was down 2.8%.
'Gift'
The tax could be used to raise money to help bolster any future bailout funds, but the proposal has already met with opposition from one member state.
"We can't have a situation where there is a transaction tax in Dublin and there is no transaction tax in London," said the Irish Republic's Finance Minister, Michael Noonan.
Deutsche Boerse also questioned the effectiveness of a tax on financial institutions.
"Such a tax generates incentives to switch even more to niches that are not covered by this tax and would be a gift for the unregulated financial centers and financial products in this world," the exchange said.
Markets overall remained steady, but have yet to recoup much of the sharp losses seen last week.
Frankfurt's Dax index ended Wednesday down 0.8% and London's FTSE 100 0.5%, but the Cac 40 in Paris rose 0.7%.
The gold price hit a new a record high, reflecting continued uncertainty over the debt situation in the eurozone and the US.
After falling back towards the end of last week, it hit $1,795 an ounce in early trading before slipping slightly.
The Swiss franc - another haven for investors - also rose again, despite efforts by the Swiss authorities to dampen its value.
Eurobonds
German Chancellor Angela Merkel and French President Nicolas Sarkozy called on Tuesday night for "true economic governance" for the eurozone in response to the debt crisis.
The leaders called for much closer economic policy in the eurozone, but said that this could only be achieved by a "step-by-step" process.
Mrs Merkel also stressed that issuing so-called eurobonds - IOUs issued to investors backed by the eurozone as a whole rather than individual countries - would not be on the agenda until closer economic union had been achieved.
Some policymakers and investors have argued that issuing these bonds would go a long way to calming volatile stock markets and resolving the debt crisis.
Both the Italian Finance Minister, Giulio Tremonti, and billionaire investor George Soros have backed the idea.
Harmonising tax
To tackle concerns about high levels of debt among eurozone governments in general, Mrs Merkel and Mr Sarkozy proposed that a requirement for member states to balance their budgets should be enshrined in each of their constitutions by the summer of 2012.
In another initiative to increase tax revenues, the leaders advocated harmonising corporate tax rates across the single currency.
The two leaders also said they wanted bi-annual meetings of the 17 heads of the eurozone governments, chaired by Herman van Rompuy, the current president of the European Council.
As well as proposals for the eurozone as a whole, the meeting also came up with some bilateral plans between Germany and France.
These included plans for a joint proposal on a financial transactions tax and meetings to exchange views about economic and budgetary policies.
In addition, French and German finance ministers are to come up with ideas to increase the convergence and competitiveness of the two economies, in particular a proposal for a joint business tax.
Patrice Perois at Kepler Capital Markets said: "There weren't any scoops as the proposals had been mentioned over the past few days. Overall, the outcome of the meeting wasn't convincing, with no eurobond project."
Chancellor Merkel and President Sarkozy were meeting in Paris in the wake of recent turmoil on the financial markets, which came amid fears of a renewed global recession and concerns that Spain and Italy may be dragged into the debt crisis.