South Korea's small businesses fight for survival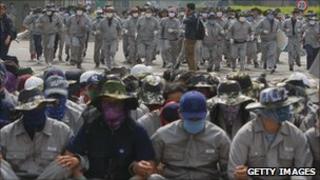 Fifty years after the start of its economic 'miracle', South Korea's economy is still dominated by a handful of big-name conglomerates.
Once, literally, the family firms of individual entrepreneurs, also known as 'chaebol', they are now global household brands.
Products by Samsung, Hyundai and others are crucial to keeping Korea's economy afloat. But their sheer size is leading to criticism that they are stifling the country's small- and medium-sized businesses.
President Lee Myung-bak has spoken about the need to rebalance the economy.
Experts here talk about a "two-tier" economy, where the gap between the big conglomerates and their small- and medium-sized suppliers is increasing to the point where the export and domestic economies risk being separated.
"This is a fundamental problem in Korean society," says Dae Yoob Yoon, an economics researcher specialising in the chaebol, "and it has a long history."
"Korea's six biggest chaebol make up more than 70% of Korean exports", he says.
"In the '70s and '80s, chaebols reduced costs by expanding their businesses, but now that expansion is causing problems."
Difficult times
Korea's big conglomerates form the backbone of the economy - Samsung alone provides 20% of Korea's exports.
But small- and medium-sized enterprises (SMEs) provide more than 80% of the country's jobs.
At a time when South Korea is keen to boost the domestic economy to offset jitters in the US and Europe, their health is seen as crucial.
However, experts say the number of smaller firms competing in some sectors has shrunk to just a handful, because of the difficulties of making a profit in the face of big company demands.
They say downward price pressure on suppliers, even as major companies make a profit, has contributed to repeated strikes and worries about Korea's domestic economy.
Earlier this month Samsung announced it was selling a combined 58% stake in one of its maintenance, repair and operation (MRO) companies, iMarketKorea Co Ltd.
The move, said Samsung, was to foster growth in the local MRO industry.
But Samsung's decision is being seen by some as a sign of how serious the debate over so-called 'profit-sharing' has become, as major companies come under fire for dominating the domestic arena.
Social impact
One idea being considered by a new commission is to ring-fence certain industries for SMEs alone.
Professor Kwak Soo-keun is one of the commission members. He accepts that the panel "cannot change the whole ecology of the market" but, he says, even chaebol have to consider the social impact of their expansion these days.
"The chaebol say consumers like their products because they're well-designed, reliable and cheaper," he says.
"But they're focused on short-term profit. In the long-run, [expansions of this kind] may not be good for the chaebols' profit."
Prof Kwak thinks the public, like the government, wants diversity. The commission does not have the power to enforce its decisions, he says, but social pressure can go a long way - particularly when backed up by the country's financial regulators.
The Fair Trade Commission agrees that the culture needs to change, and says it is offering incentives to encourage the chaebol to offer financial assistance and technology transfer to their sub-contractors.
Economics researcher Dr Yoon believes "the only solution is political intervention in the market... to regulate expansion of the chaebol".
But that could mean the chaebol looking abroad for faster, cheaper supply lines, he says. This would force the SMEs in Korea to broaden their customer base at home.
Sense of urgency
Another key area the big-name conglomerates have to keep an eye on is their competitiveness in the medium- to long-term.
As a free-trade agreement with the European Union takes effect here, and another with the US waiting to be ratified, there is bound to be increased competition from abroad in key sectors such as the automobile industry.
Analysts say that large manufacturers need to look at their partnerships with the sub-contractors and ensure that their profits are shared with them, so that those smaller companies can further invest in research and development to keep up with competitors.
Concerns over developments in the US and Europe have added to the sense of urgency, both on the part of the exporters and on the part of those worried about an atrophying domestic economy.
Korea needs to boost jobs and consumption at home, to insulate itself against falling demand in the West, but it also needs to keep an eye on domestic household debt, which has risen to record levels in recent months, and could undermine the country's financial stability.
The chairman of the Fair Trade Commission recently spoke to American business leaders in Seoul about large companies' "undue influence" over smaller ones, and the need for shared growth.
"Mutual partnership between large and small companies has yet to take root in Korea" he said, and that needs to change.