Samsung Galaxy Tab ban is on hold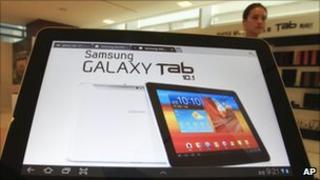 The ban on the sale of Samsung's Galaxy Tab 10.1 across Europe has been temporarily lifted while a court looks at whether the original ruling was appropriate.
The ban was brought in in Germany following a patent dispute with Apple. It accused Samsung of "slavishly" copying the design of its iPad.
But questions were raised over whether the Dusseldorf court had the right to instigate an EU-wide ban.
The ban still holds in Germany.
The Netherlands was always exempt as Apple sought to pursue broader claims there, largely because the country's ports are where many technology companies import their goods into the EU.
The overturning of the ban was originally reported by Webwerld, a Dutch IT news site.
Apple 'overreaching'
Patent law blogger Florian Mueller confirmed that the Dusseldorf court where the injunction was lodged had lifted the ban until a court hearing later this month.
"Apart from the immediate commercial benefits that this provides to Samsung, it's an unpleasant situation for Apple," he wrote.
Should the court really find that the Dusseldorf court didn't have personal jurisdiction over a Korean company, this would reinforce a lot of peoples' impression that Apple's enforcement of design-related rights is, even though understandable to a certain degree, overreaching in some areas."
Apple is also facing accusations that the document that helped it gain the original injunction on sales of the Galaxy Tab in Europe appears to misrepresent the device's similarity to the iPad.
A side-by-side comparison of the two tablets features a "squashed" picture of the Galaxy Tab, making it look identical in size and shape.
There are currently a huge number of patent disputes among smartphone and tablet makers.
The Galaxy's Australian release has been delayed because of a similar lawsuit.