Why retiring has suddenly become more expensive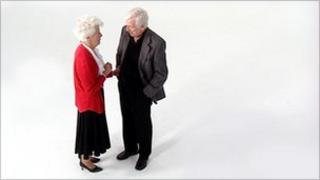 The yields on fixed interest investments, such as gilts and corporate bonds, which are used to price annuities, have fallen to their lowest levels for many years.
The debt crises in the US and eurozone has caused havoc in the financial markets.
As a result, insurance companies have cut the income paid from annuities.
An annuity converts the capital saved up in a personal or company money purchase pension pot into a guaranteed income for life.
In the UK more than £10bn is invested in annuities every year.
The main reason for the sudden reduction in yields is the flight to quality resulting from the European and US debt problems.
At times when investors are worried about global equities there is a strong demand for gilts, and as the price of gilts rises, the yields fall.
This may seem strange because the UK has its own debt problems.
But it seems that global investors think it is not as bad as in other countries and are therefore choosing to invest in the UK fixed-interest market rather than our European neighbours.
How much less?
The chart below shows how our benchmark annuity rate has changed over the past 12 months.
The benchmark rate is for a man aged 65, woman aged 60, £100,000 purchase, joint life reducing to 2/3rds payout after first death, guaranteed for five years and level payments.
You will notice that annuity and gilt yields fell at the end of last summer but they picked up again later in the year.
We cannot be sure that this pattern will be repeated this year as the current debt crises is more severe than the events of last summer.
In simple terms this means that an individual retiring now with a pension fund of £100,000 will secure a lifetime income which is about £250 per year less than a few weeks ago.
However the size of the average pension pot in the UK is around £30,000 so the average fall in income will be around £85 per year before tax.
What are the prospects?
It is too early to predict what will happen to annuity rates in the coming months.
But unless gilt yields fall even further it seems that rates will stay at current levels for the time being.
If yields increase back to the 3.5% level seen at the end of July we can expect annuity rates to rise again.
But as with many savings accounts, companies are quick to cut rates and often slow to increase them again, so it might be some time before annuity incomes will rise.
Approaching retirement
At times of falling annuity rates it might be tempting to hold off buying an annuity in the hope that rates will increase.
But this is not necessarily the best course of action for two reasons.
Firstly, rates could fall even lower.
Secondly, every month an annuity is deferred is a month without income and this lost income might not be recouped in the future.
Generally speaking it makes sense to spend as much time as required in order to decide what type of annuity, and which options, are most appropriate for your personal circumstances.
But once that decision is made, you should not necessarily delay your annuity purchase for fear of losing out even further.
Although it is impossible to second-guess the financial markets and accurately forecast future annuity trends, you can maximise the amount of lifetime annuity income by taking a few simple steps.
First of all, ensure that as you approach retirement you are invested in safe assets.
This is so the capital value of your pension will not be affected by a sudden fall in the stock market, as has happened in the last few weeks.
Second, make sure you get the highest paying annuity by shopping around using the open market option.
Other options
Finally, if you smoke, are taking prescription medication, or have been to hospital recently for a medical condition, you should qualify for an enhanced annuity.
This pays a higher income to reflect your reduced life expectancy.
Although the majority of people purchase a guaranteed annuity, there are annuities which are linked to stock market returns.
Here, the initial income is not pegged to gilt yields, but future income will be higher or lower depending on future stock market returns.
Both Prudential and MGM Assurance offer these types of annuities.
But they are normally only suitable for those who can accept the risk that future income could be volatile.
The logic behind these types of policies is that an annuity is a long-term investment.
Therefore you should think about your longer-term income requirements and aim for future income growth to combat the effects of inflation.
Another option is a fixed-term annuity where a guaranteed income is paid for a fixed period of time, for instance five or 10 years.
At the end of the term there is a guaranteed maturity amount that must be reinvested in another annuity.
If at the end of the term you can purchase a higher annuity because rates have improved, or you qualify for an enhanced annuity, you will be better off.
However if you cannot in fact purchase a higher annuity you will be worse off.
Companies such as Aviva, LV=, Living Time and Just Retirement offer these products.
The final option is pension drawdown, which means that you do not buy an annuity at all but make income withdrawals directly from your pension fund.
This is a more complex and risky option and normally requires professional advice.
The opinions expressed are those of the author and are not held by the BBC unless specifically stated. The material is for general information only and does not constitute investment, tax, legal or other form of advice. You should not rely on this information to make (or refrain from making) any decisions. Links to external sites are for information only and do not constitute endorsement. Always obtain independent, professional advice for your own particular situation.