Qantas looks to Asia as it unveils major restructuring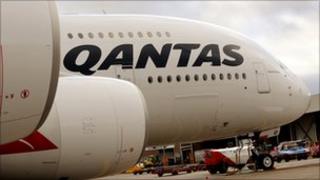 Qantas has unveiled plans to launch two new airlines in Asia, restructure its struggling international carrier and buy new planes.
Under the plan, Qantas aims to launch a new premium, Asia-wide service. It will also set up a budget carrier focusing on the Japanese market.
Qantas said 1,000 jobs would be affected by the changes.
It has been losing market share at a time when travel in Asia is growing.
Qantas International "is suffering big financial losses and a substantial decline in market share," Alan Joyce, the airline's chief executive said in a statement.
"To reverse that decline we need fundamental change. To do nothing, or tinker around the edges, is not an option."
Mr Joyce said Qantas' share of the Asian international market has collapsed to 14%.
Asia focus
Qantas said the premium airline would be based in Asia and would have a new look and feel. The location for that carrier is yet to be confirmed.
The Australian company also announced the launch of Jetstar Japan, and added that the budget airline would be a partnership with Japan Airlines and Mitsubishi Corporation.
Jetstar Japan is due to begin operations at the end of 2012.
To accommodate the changes Qantas said it would expand its fleet of aircraft, ordering as many as 110 Airbus A320 jets.
In his statement Mr Joyce highlighted the importance of the growing Asian market, saying more Australians are flying to Asia for business and relaxation.
"There is probably only a brief window to establish a leading aviation position in the market. We want to be growing with Asia," he said.
High costs
The company said the cost base for its international operations is 20% higher than that of its competitors.
Greg Fraser of Fat Prophets in Sydney said this restructuring is an attempt to cut costs.
"By removing the base of the airline into Asia, where the costs are possibly lower, they should be able to return the international part of the airline to profitability," he said.
However, trade unions in Australia have been voicing their concerns about the risk to 1,000 jobs.
Australia's transport ministry said it would examine Qantas' plans and the potential job cuts to ensure it complies with the airline's privatisation rules.