House sellers drop prices for the second month in a row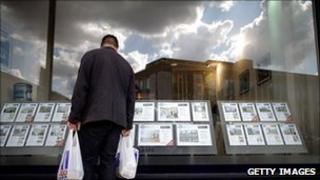 House sellers have dropped their asking prices for the second month in a row, the property website Rightmove says.
Sales have been held back by the reality gap in the market, with asking prices rising for most of this year while selling prices have been flat.
However, Rightmove says asking prices dropped by 2.1% this month after a 1.6% fall in July.
The average asking price of £231,543 is now 14% higher than the average £203,528 selling price.
That selling figure comes from the government's own monthly house price survey, produced by the Department for Communities and Local Government (DCLG).
The gap between asking prices and selling prices is even wider if data from other house price surveys is used.
The Halifax puts the cost of the average home at £163,981, and the Nationwide puts it at £168,731, so sellers and their estate agents could be overpricing their properties by as much as 41%.
"We're in a 'limbo-land', where a restricted number of motivated sellers are trying to match themselves up with the similarly restricted number of financially capable buyers," said Miles Shipside of Rightmove.
"In many parts of the country, transaction levels are limited to the number of sellers who are willing to price aggressively below the competition and can afford to do deals," he added.
'Tight-fisted lenders'
The new realism gripping would-be house sellers was highlighted by another property search website, Zoopla.
It said 39% of all homes currently up for sale had had their prices cut at least once since being put on the market.
The average price cut is £18,500, or 7% of the original asking price, Zoopla said.
A year ago, the average price reduction was 6%, and they affected 32% of the homes for sale at the time.
Nicholas Leeming of Zoopla said: "Vendors continue to have to lower prices due to weak buyer demand."
"Sluggish economic growth has hit buyer confidence and tight-fisted lenders are currently making it impossible for swathes of would-be buyers to benefit from the price reductions," he said.