Cathay Pacific scandal delays international ad campaign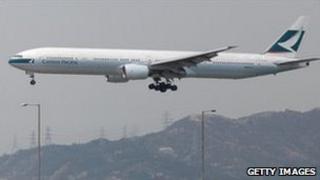 Cathay Pacific will delay a marketing campaign, after photographs of crew members allegedly engaging in a sexual act were published.
The airline was due to launch the campaign in September.
Its tagline was "meet the team who go the extra mile to make you feel special".
"We have decided to postpone the global launch of our next wave of our advertising campaign to 1 October," said a spokeswoman.
She added that the original timing "doesn't suit us".
Last week, the Hong Kong-based carrier announced that two crew members photographed in "compromising situations" were no longer working for the company.
It gave no details on their duties for the airline.
A number of photographs were recently published online and in Chinese-language newspapers.
The newspapers claim the woman in the photographs was a flight attendant and the man a pilot, both of whom were working for Cathay Pacific.
They allege the photographs were taken in the cockpit of a Cathay Pacific plane.
Cathay's chief executive, John Slosar, said there no evidence to suggest that the incidents happened on any flights while airborne.
"I find any behaviour that recklessly soils the reputation of our company or our team members as totally unacceptable," Mr Slosar said in a statement.
The airline is in the process of handing over details of its internal investigation to Hong Kong's Civil Aviation Department.
September's marketing launch was supposed to be the second phase of an international campaign.