Japan economy slows less than expected in last quarter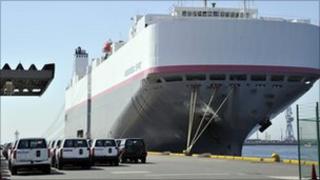 Japan's economy contracted less than expected in the last quarter, showing stronger signs of recovery from the deadly tsunami.
The economy shrank by an annualised rate of 1.3% in the three months to the end of June, the Cabinet Office said. It shrank 0.3% from the previous quarter.
Most forecasters were expecting drops of about 2.6% and 0.9%.
The figures should boost optimism that Japan will emerge from recession.
Bounce back?
Japan's economy has contracted for three straight quarters. A recession is defined as two consecutive quarters of contraction, or shrinking economic output.
"The scenario that Japan's economy will get on a recovery track later this year has not changed," said Yoshikiyo Shimamine of Dai-Ichi Life Research Institute, adding that growth was given a lift by car manufacturers restoring production.
The March 11 earthquake and tsunami destroyed large parts of Japan's north-eastern coast, causing a nuclear crisis at the Fukushima power plant.
That caused electricity shortages at factories, and disrupted supply chains for many Japanese manufacturers.
However, car companies such as Nissan and Toyota, have restored their supply chains faster than expected, helping lift output in Japan, the world's third-largest economy.
Nissan made 1.9% more cars in Japan during June when compared with the same month a year earlier. Toyota's global production may have dropped by 9.2% in June, but that was far better than the 49% fall seen in May.
The BBC's Tokyo correspondent Roland Buerk said the latest figures showed that "manufacturing is recovering from the disaster strongly".
"Supply chains broken when factories making critical components were destroyed are being reconnected," he added. "The stage is set for Japan's economy to roar back in the July-to-September quarter."
Growth risks
However, Dai-Ichi Life Research Institute's Mr Shimamine warned that growth may be hampered by "yen strength and financial turmoil in the US and Europe".
The yen gained against the US dollar on the news from the Cabinet Office, while Tokyo's main Nikkei 225 stock index opened 1.6% higher.
Japan's government has also been warning of the risks to the recovery. Last week it cut its growth forecast for the current fiscal year to 0.5% from 1.5%, citing the lingering impact of the 11 March earthquake and tsunami.
In an effort to help manufacturers and underpin a recovery, the government and central bank intervened in the currency markets on 4 August to weaken the yen.
A strong yen hurts exporters as it makes Japanese good more expensive in foreign markets and weakens demand. In the past three months, the yen has gained 5% against the dollar.
The central bank may now have to do more to keep the yen in check, Dai-ichi Life Research Institute's Mr Shimamine said.
"It is possible the Bank of Japan will take additional steps to ease monetary policy so that companies can continue capital investment at home," he added.