Honda plans $800m new Mexican car plant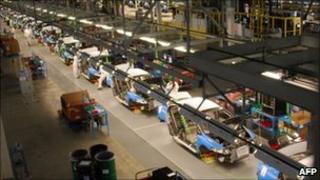 Japanese car maker Honda Motors is to build a new factory to produce small cars for the North American market.
The Mexican plant will cost $800m (£500m) to build, and will employ around 3,200 workers producing up to 200,000 cars a year.
The firm also announced plans to increase production at some of its plants in the US and Canada.
The company reduced production in some factories due to parts shortages following the Japanese tsunami.
Honda said it will re-instate a second shift at its Alliston plant in Canada that was cut following the disaster.
It will also add shifts to its US plants in Indiana and Ohio.
The new Mexican factory will start producing by 2014 to meet what the company believes will be increased demand for smaller vehicles.
"With growing demand for fuel-efficient vehicles this plant will increase Honda's ability to meet customer needs," said Tetsuo Iwamura, chief operating officer for Honda's North America region.
The plant will be built in the state of Guanajuato.
Honda recently announced an 88% fall in first-quarter profits after the 11 March earthquake and tsunami.
Honda said it made a net profit of 31.7bn yen ($408m; £248m) compared with 274bn yen a year earlier.