High cost of petrol defended as oil price falls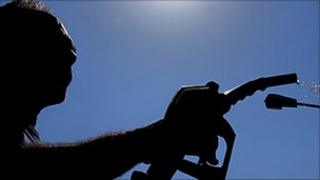 The forecourt industry has defended continued high petrol costs at a time when oil prices have fallen.
Unleaded petrol is close to its record price, even though there has been a sustained fall in the cost of oil over the past four months.
Since 8 April, the cost of Brent crude has dropped by 18% - and the price of unleaded petrol has risen by 1.8%.
But the group that represents independent forecourts blamed other factors such as exchange rates.
This week unleaded petrol cost an average of 136.58 pence a litre across Britain's forecourts.
That is close to the record price of 9 May, 2011, when unleaded cost 137.43p a litre.
Diesel prices have remained steady over the same period, although they too are within 3p of a record high.
The petrol industry points out that the price of a litre at the pumps is only partially dependent on the cost of crude oil.
Some 60% of the price is accounted for by fuel duty and VAT. Another 10% is down to delivery charges, the cost of marketing, and profit margins made by both suppliers and retailers.
Only 30% depends on the cost of crude oil.
Exchange rate 'problem'
Refining costs and wholesale prices on any given day mean the price of petrol can vary further.
Brian Madderson, of RMI Petrol, represents independent forecourts across the UK.
He said one problem has been the exchange rate.
Oil is priced in dollars, and recently sterling has weakened against the dollar - counteracting the drop in the price of crude.
Mr Madderson said: "As a result we are not getting as much of the saving from crude oil prices as might be expected."
The forecourt industry categorically denies its members make good profits from petrol sales.
Most independent forecourts make between two and four pence a litre - meaning a full tank only nets the petrol station between £1 and £2 profit.
"That is hardly sustainable," said Mr Madderson.
He explained that the only way most petrol stations survive is by having shops, car washes or cash machines attached to them.
Even so, up to 500 forecourts a year are closing down.
Mr Madderson added: "If they were making substantial margins, we would see more investment coming into the business, rather than going out of it."
Some observers expect the fall in the oil price to filter through to forecourts within the next month. Earlier this week, Asda and Morrisons took 2p off the price of a litre.
But despite the economic slowdown, there was upwards pressure on the price of crude oil this week, as the US revealed that its oil reserves were lower than analysts expected.
And even though fuel duty was reduced by 1p in April this year, the UK government is planning to make up for that with two increases in 2012. From 1 January, duty will rise by 3.6p a litre.
The government said that rise was purely to take account of inflation.
Then, in August, the duty will rise again, either by inflation, or by inflation plus 1p, depending on the price of oil.
The RMI believes that could mean around 8p a litre being added to fuel duty.
The Pepper family, from Bourne in Lincolnshire, is already feeling the effect of high prices.
They had planned to traverse Wales during a camping holiday in August - but when they worked out the cost of fuel, they decided to do a much shorter route.
"It is £70 to fill a tank now," said mum Louise Pepper.
"And it is a tank there, a tank up, and a tank back. It makes the cost of the holiday astronomical really."