France and Greece feel economic strain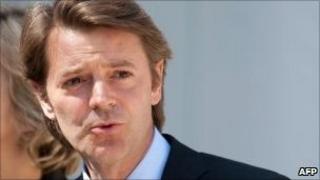 French economic growth was zero in the second quarter, compared with the previous three months, adding pressure for the government to curb its deficit.
But French Finance Minister Francois Baroin insisted the economy was solid.
Meanwhile, the Greek economy shrank by 6.9% in the second quarter, compared with the same period a year earlier.
However, the rate of decline slowed from the first three months of the year, when the economy shrank by 8.1%, national statistics agency Elstat said.
Prolonged recession?
Greece, which has twice been forced to seek international bailouts, is on course for a third consecutive year in recession in 2011.
Ben May from Capital Economics said that while annual growth had become less negative in the second quarter, it was still "incredibly weak".
"It looks like Greece will continue to struggle to meet its budget deficit reduction goals and more generally, we think it will remain in recession for a lot longer than official forecasts predict," he said.
"We see negative growth for GDP in 2012 and 2013. You could see recession or stagnation for several years."
'Diverse economy'
France's statistics office, Insee, said economic growth was zero in the April-to-June period compared with the previous quarter.
The first quarter had seen growth of 0.9%, which had been the best in almost five years.
"I am very confident. I am confident because we have strong [fundamental drivers] in our economy," Mr Baroin said.
"Why strong? Because our economy is diversified, because we have a banking system which is one of the most resistant in the world."
Deficit concerns
Late on Thursday, France - along with Italy, Spain and Belgium - announced that it was banning the short-selling of shares in banks and other financial companies.
The practice of short-selling sees traders profit from betting on the fall in a share price and has been blamed for increasing recent market instability.
Wednesday had seen a whirlwind of rumours regarding the French economy and French bank Societe Generale.
SocGen was forced to deny rumours that its financial stability was at risk. Its share price still fell 14.7%, though at one point it was down more than 20%.
And the government denied that France faced having its credit rating downgraded, something which was affirmed by the three main rating agencies.
The government has been seeking to address its deficit, however, which last year stood at 7% of GDP. President Nicolas Sarkozy cut short his holiday to hold an emergency government meeting on Wednesday and promised new measures to reduce the deficit.
'Pressure on'
The main cause of economic growth stagnating in the second quarter was a drop in household consumption. It fell 0.7%, compared with a rise of 0.4% in the first quarter.
Laurent Fransolet, head of European fixed income strategy at Barclays Capital, said the slowdown was not a surprise, but he had still been expecting growth of about 0.2%.
He added that the government would have to decide "pretty quickly" on extra deficit-cutting measures.
"The pressure will continue probably on France; it's been very, very intense over the past few months already," he told the BBC.