Betfair on the front foot over sport gambling cheats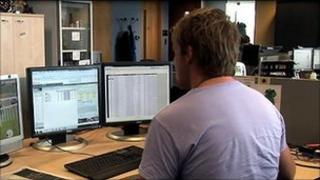 The leader of the global Olympic movement, Jacques Rogge, has called match-fixing and corruption as big a threat to sporting integrity as doping.
Unfortunately, sporting scandal and attempted crooked betting coups have all too often gone together, as recent football match-fixing events in Finland and South Korea have shown.
Those events, like last year's furore surrounding three Pakistan cricketers - subsequently given bans - and the bowling of "no balls" against England at Lords, were linked to illegal gambling rings.
But for legitimate betting firms, whether traditional High Street outlets or more recent online betting organisations, these events all tend to be lumped together in the public's mind under the one heading of "gambling".
"Much of what we have seen has been from the illegal Asian markets - there is a huge difference between them and ourselves," says a senior investigator at online gambling firm Betfair.
"But it is all about perceptions, and people just see the headlines about gambling without looking deeper."
It is to avoid such tarnished associations with crooked gambling rings that firms such as Betfair go to great lengths to monitor the betting patterns on its site.
'Prevent, detect, investigate'
The firm is the world's major betting exchange - a set-up that allows gamblers to bet on sporting events at odds set by other gamblers.
Betfair makes its money by taking a commission from winning bets.
The firm's headquarters overlooks the River Thames at Hammersmith, west London, and houses Betfair's corporate, technical, marketing, and user-experience teams.
But arguably the most important is the integrity team of eight people, which uses computer and analytical tools to prevent criminal activity being conducted in connection with sport and gambling, and to keep criminals off the Betfair site.
"Our task is to prevent, detect, and investigate," says the Betfair investigator, or "integrity analyst", who asks not to be named because of his work in dealing with criminal activity.
"We work closely with the police and other law-enforcement agencies, gambling regulators, sports bodies, and organisations which promote responsible gambling."
The challenges facing Betfair range from potential match-fixing driven by illegal gambling rings, to money-laundering, to people using stolen or cloned credit cards to bet with, to sportspeople using inside information.
Betfair hosts odds on more than 40 sports and at any time there can be as many as 11,600 betting markets on the site.
Customers sign terms and conditions which allows Betfair to check closely their background and, in certain suspicious circumstances, to pass their details on to the relevant sporting or legal authorities.
In addition it has also developed an early-warning computer programme called BetMon, which governing bodies can use to watch betting patterns (but not customer details) on the Betfair website for their sports.
And Betfair prides itself on its audit trail to aid the police or sports authorities in any investigation.
"Records are kept of each login and bet, event, selection, stake, odds, profit - if any - and method of bet, as well as the IP address of the computer used to make the bet," says the Betfair analyst.
"Phone calls are also recorded, too, for possible future reference."
Indeed, Betfair is proud of its ability to spot suspicious betting patterns - in one of the most high-profile cases it famously refused to settle wagers on a tennis match featuring Russian player Nikolay Davydenko in 2007.
The Russian retired from a game in the Poland Open, and this came after "irregular" betting patterns on his match.
The company, which has agreements with a number of sporting bodies, including the ATP and other tennis authorities - to whom it reported it concerns in the Davydenko case.
The player was subsequently cleared of match-fixing by the ATP.
Sporting advice
Often criminal gambling rings target players or match officials in an attempt to manufacture the desired outcome of a sporting fixture.
Which is where people such as Simon Taylor, who has been the General Secretary of the Professional Players Federation (PPF) in the UK since 2006, come in.
He is also is head of policy at EU Athletes, the European federation of player associations.
In 2010, the PPF signed an agreement with the Remote Gambling Association and its members, including Betfair, to develop and deliver education programmes to players on sports betting and the potential pitfalls.
This year the programme will be delivered in person to 5,500 sportsmen and women in the UK.
"Our research showed that 40% of footballers did not know the rules about not betting on competitions they were involved in," he says, pointing out the importance of player information.
Mr Taylor said that often those caught up in illegal gambling pressures were young athletes, particularly footballers, who could come under pressure from criminals who befriend them.
Those at the other end of their careers are also a potential risk.
"You might have a veteran looking for one final pay day, but we point out that you will never get a job later as a coach or in sporting PR. That is not going to happen if your name is ruined," says Mr Taylor.
His organisation also offers advice and support for sportsmen and women who may suffer from problem gambling.
'Memorandums of understanding'
Eyebrows were raised among many commentators and industry figures in March when Betfair said it would be partly heading offshore.
By moving its gambling licence from the UK to Gibraltar the firm was no longer bound by any statutory obligation to inform Britain's Gambling Commission of any suspicious betting.
However, Betfair says that not only is it regulated by the Gibraltar authorities, it also has memorandums of understanding (MU) with numerous sporting bodies to inform them of suspicious activity.
This includes Mr Rogge's International Olympic Committee (IOC), which signed up before the Beijing 2008 Games and can request the identities of account holders who bet suspiciously.
"Our UK licence required us to inform any suspicious information to the Gambling Commission," says Betfair's Susannah Gill.
"Technically we do not have to that any more, but we will continue to do this. That will continue indefinitely.
"We realised back in the early days that information sharing is central to sports integrity."