News Corp profits fall on sale of MySpace website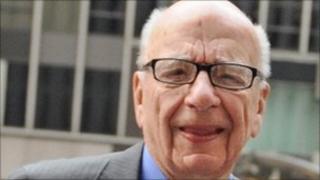 Media giant News Corporation has seen its quarterly profits fall 22% on the back of losses caused by the sale of the MySpace social networking website.
The company, whose UK subsidiary News International has been rocked by the phone hacking scandal, made $683m (£423m) net profit in the three months to 30 June - down from $875m last year.
News Corp sold MySpace in June for $35m, having paid $580m for it in 2005.
Chairman Rupert Murdoch said he had the backing of his board.
"The board and I believe I should continue in my current role as chairman and CEO," he said.
Man arrested
Mr Murdoch admitted the recent phone-hacking scandal that resulted in the company closing its News of the World newspaper had caused News Corporation difficulty, although its revenues rose 11% to $9bn.
"Make no mistake, [chief operating officer] Chase Carey and I run this company as a team, and the strength of that partnership is reflected in our improved results," he said.
"While it has been a good quarter from a financial point of view, our company has faced challenges in recent weeks relating to our London tabloid, News of the World.
"We are acting decisively in the matter and will do whatever is necessary to prevent something like this from ever occurring again."
Meanwhile, a 61-year-old man has become the latest person to be arrested on suspicion of phone hacking, Scotland Yard said on Thursday.
The BBC understands he is former News of the World news editor, Greg Miskiw.
He was arrested by officers from the Met Police's hacking investigation, Operation Weeting, after visiting a police station by appointment.
Mr Miskiw is the 12th person arrested and is being held on suspicion of unlawful interception of communications and conspiring to intercept communications.
The scandal also resulted in the departure of senior News Corp executive Les Hinton, who was chief executive of Wall Street Journal publisher Dow Jones, and News International chief executive Rebekah Brooks.
And last month Mr Murdoch and his son James, News International chairman and News Corporation deputy chief operating officer, were forced to appear before MPs in London to answer questions about the scandal.
Dropped bid
Investors will have to wait until News Corporation's next quarterly results for more information on how the closure of News of the World has affected its profits, as the title's final edition was on 10 July, 10 days after the three months covered in the company's latest financial results.
However, News International only provides a very small proportion of News Corporation's revenues and profits.
Its other main businesses include Hollywood film studio 20th Century Fox, US television network Fox Broadcasting and publisher Harper Collins.
It also owns the Wall Street Journal.
And News Corporation's 39% share of UK-based satellite broadcaster BSkyB proves highly lucrative.
Last month it abandoned its bid to buy the remainder of BSkyB following the hacking scandal.