Tesco to fight dairy price-fixing fine from OFT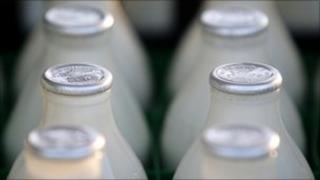 Tesco has threatened legal action after being hit with a £10m fine from the Office of Fair Trading (OFT) following an inquiry into the price fixing of dairy products.
The supermarket giant was one of nine firms facing penalties totalling close to £50m for colluding over the price of milk and cheese in 2002 and 2003.
But Tesco expressed "surprise and dismay" that it was included in the penalties handed down by the regulator.
Tesco denies it colluded with others.
The OFT estimated that the collusion saw shoppers pay 2 pence extra for a litre of milk and 2p extra on 100g of cheese.
The regulator originally calculated that an extra £270m was spent by UK consumers as a result of the price fixing, but no total figure has been included in the final report.
Fines reduced
The OFT found that Arla, Asda, Dairy Crest, McLelland, Safeway, Sainsbury's, The Cheese Company, Wiseman, and Tesco infringed the Competition Act by co-ordinating rises in the prices consumers paid for certain dairy products in 2002 and, or 2003.
The first eight all received leniency after admitting liability.
However, Tesco has denied collusion and said it would defend its position vigorously, and "through the courts if necessary".
"We surely have now reached the stage where the absurdity of the OFT operating as investigator, prosecutor and judge cannot be allowed to continue," said Lucy Neville-Rolfe, Tesco's director of corporate and legal affairs.
Tesco's share price was down slightly at 1100BST on Wednesday, as was Morrisons' - the owner of Safeway.
Fines were originally set at a total of £116m, but were reduced after consultation. For example Wiseman said it had originally reached a settlement of £6.1m with the OFT. This sum was reduced to £4.2m in March 2010, and is now down to £3.2m.
The OFT said that supermarkets had indirectly exchanged pricing details with each other via the dairy processors.
However, it said that not all the companies were involved in all the infringements that it had found.
The final penalties announced by the OFT were £9.39m for Asda, £7.14m for Dairy Crest, £1.66m for McLelland, £5.69m for Safeway, £11.04m for Sainsbury's, £1.26m for The Cheese Company, £3.2m for Wiseman and £10.43m for Tesco. Although Arla was found to been involved in the infringement regarding milk in 2003, it has not been fined as it alerted the OFT to price fixing and was given immunity.
"Competition in the supermarket sector is generally intense and has delivered significant benefits to shoppers across the UK in terms of innovation, choice and improved value for money," said OFT chief executive John Fingleton.
"Our investigation and this final decision will help ensure that this competition is maintained."