Bank of Ireland's 2011 losses are falling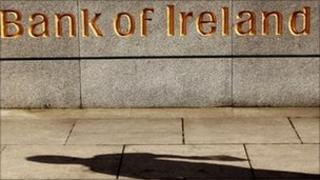 Bank of Ireland has reported an underlying pre-tax loss of 723m euros for the first six months of the year.
The figure compared to a loss of 1.32bn euros for the same period last year.
The bank said that while the trading environment continued to be challenging, it had seen reduced loan impairment charges.
Bank of Ireland was one of the few Irish banks to have avoided coming under state control following the country's massive banking crisis.
In the bank's balance sheet , it said that its "underlying" results excluded non-core items which the group believes obscure underlying performance trends in the business.
Without these non-core items, it made a loss of 556m euros compared to a profit of 116m euros under the same measure last year.