Tiger Airways ban lifted by Australia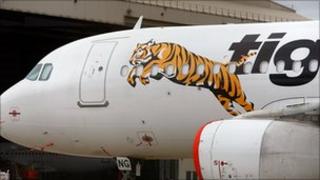 Aviation authorities in Australia have lifted a five-week ban on Tiger Airways, but with some safety conditions.
The budget airline will be allowed to fly only 18 flights a day, the Civil Aviation Safety Authority (CASA) said.
The regulator grounded all 10 of Tiger's aircraft in Australia on 2 July after concerns were raised over pilot training and maintenance.
CASA said Tiger had shown it could meet necessary safety requirements.
"Tiger Airways has co-operated with our investigation and supplied all the relevant and required documentation and information," said CASA director of aviation safety John McCormick at a news conference.
"This was not an easy time for Tiger Airways, yet they did take a constructive approach," he added.
New regulations imposed on Tiger Airways by CASA include pilot training and proficiency, a revamp of pilot rostering and fatigue management, and revised operation manuals.
The grounding, the first time an airline's entire fleet has been grounded in Australia, came after some aircraft approached runways too low.
CASA had said that the serious safety issues posed an imminent risk to air safety.