Birmingham City owner Carson Yeung denied UK trip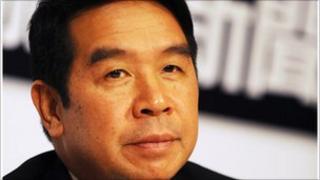 Hong Kong businessman and chairman of Birmingham City football club, Carson Yeung, has been refused permission to attend the club's first home game of the season.
Mr Yeung faces charges related to money laundering involving 720m Hong Kong dollars ($92m; £57m).
He appeared in court in Hong Kong offering to increase his bail amount so that he could fly to Britain.
The magistrate ruled Mr Yeung must stay in Hong Kong until at least 30 August.
That is when he is required to enter a plea in a district court.
'Indictable offence'
Officers from the financial investigations unit of Hong Kong's narcotics bureau arrested Mr Yeung on 29 June at his home on the Peak in Hong Kong - one of the city's most prestigious and expensive places to live.
He spent a night in jail, and a magistrate released him the following day on bail of 7m Hong Kong dollars ($950,000; £587,800).
Mr Yeung faces five charges of "dealing with property known or believed to represent proceeds of indictable offence".
In a separate legal case, Hong Kong's attorney general has applied to freeze Mr Yeung's assets.
Mr Yeung bought a struggling textile company, Grandtop International, in 2007 in order to make a bid for Birmingham City. It failed. But in 2009 it succeeded, with a deal worth £81.51m ($134.6m).
Grandtop changed its name to Birmingham International Holdings (BIH) to reflect its new focus on the football club, although it has continued as a clothing trader.
Mr Yeung himself lived in the UK as a teenager and became a successful hairdresser in Hong Kong. He later invested in property in the city, as well as in energy on the Chinese mainland, and much of his fortune comes from gaming companies in the former Portuguese enclave of Macau.
Shares in Birmingham International Holdings have been suspended in Hong Kong since 30 June pending a further announcement on the incident and the company's financial situation.
The company told the stock exchange that it understood the allegations against Mr Yeung were "in no way related to the company".
The share price was 15 Hong Kong cents at the suspension - a fall of 99.5% in value from the peak in 2003.
Football view
Birmingham City has tried to reassure fans. The acting chairman, Peter Pannu, said last month it was still very much business as usual, despite some reports suggesting otherwise.
Mr Yeung is the biggest shareholder in BIH, with a reported stake of 26.31%. But the cash-strapped company is trying to borrow HK$79.5m by selling convertible notes to investors.
They can be turned into additional shares, so Mr Yeung's stake would shrink proportionally.
His management of Birmingham City has been controversial.
In July he said he wanted to appoint his 18-year-old son, Ryan, as director.
There has been success on the field: the club gained a first major honour since 1963 in February by beating Arsenal 2-1 at Wembley to win the Carling Cup.
But in May Birmingham City were relegated from the Premier League. It was estimated it could lose about £40m a year in revenue as a result.