Apple prevents Galaxy sales in EU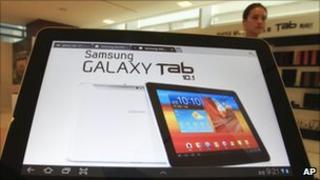 Apple has been granted a temporary injunction preventing Samsung Electronics from selling iPad tablet computer rival Galaxy Tab 10.1 in the European Union, except the Netherlands.
An Apple spokeswoman confirmed the ruling had been made by a court in Germany, after Apple argued the Korean firm had infringed its patents.
It is the latest setback for Samsung's launch of the Galaxy.
The Galaxy's Australian release has been delayed due to a similar lawsuit.
Apple is also seeking a court order to temporarily block sales of the tablet computer in the US until patent claims are resolved.
Analyst Tony Cripps said he expected the temporary injunction to have a short-term effect on sales of the Galaxy 10.1 Tab, which is "set to be among the strongest threats to the iPad's current dominance of the tablet market".
Legal dispute
Apple argues that Samsung has "slavishly" copied the technology of both the iPad and the iPhone.
Samsung has countersued Apple in South Korea, Japan, the US and Germany.
In a statement, Samsung spokesman Kim Titus said the German court had made its order "without any hearing or presentation of evidence from Samsung."
The company would "act immediately to defend our intellectual property rights," he added.