Armed forces pensioners underpaid, admits MOD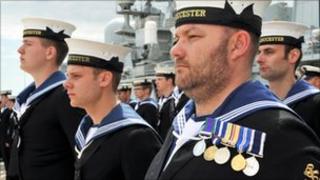 More than 5,000 former members of the armed forces, who have retired since April 2010, have been underpaid their pensions.
Despite acknowledging the error, the Service Personnel and Veterans Agency (SPVA) says it cannot rectify the problem until later this autumn.
The Forces Pension Society (FPS), which represents retired service personnel, said the delay was appalling.
The mistake is costing most retirees an estimated £200 to £300 a year.
"We have written to the veterans minister, Andrew Robathan, to ask what he is doing about it, but he hasn't replied yet," said David Marsh of the FPS.
However, a spokesman for the Ministry of Defence (MOD) said: "We are aware of an inaccuracy with a relatively small number of armed forces pensions 'commutation' calculations since April 2010 and we are upgrading our IT systems to address this."
"Those affected will be fully reimbursed and we apologise for any inconvenience caused," he added.
'Unforeseen delay'
The problem was discovered by Commander Michael Goldthorpe, who retired from the Royal Navy in 2010 after 33 years' service.
He noticed that the pension he started receiving in September last year was about £311 a year lower than the one his official pension forecast had indicated.
After Cdr Goldthorpe lodged a complaint, the SPVA which runs the Armed Forces Pension Scheme (AFPS), eventually admitted he had suffered maladministration because of "unforeseen delays in updating the compensation and pension system".
In his case, he was told that his original pension forecast had been inaccurate and his underpayment had amounted to just £138 a year.
He has now been offered £25 compensation and eventual repayment of his pension shortfall.
However, Cdr Goldthorpe discovered from a Freedom of Information request that, as of 21 March 2011, incorrect underpayments had been made to 3,413 service personnel who had retired since April 2010.
Both he and the FPS estimate that this number will now have risen to more than 5,000.
The MOD told him that those who retired after November last year should have been alerted to a discrepancy in their own prospective pensions by its computerised pension forecasting system.
But he is upset that most of the other victims, 2,049, are still in the dark and are likely to have suffered a bigger loss.
"They still haven't told the people who left before November 2010," Cdr Goldthorpe said.
"I am disappointed it has taken so long [to uncover] and so many people were affected.
"The MOD were happy to sit back and not inform them they were being paid incorrectly," he added.
Commutation
The problem has affected members of the AFPS 75 scheme, the scheme for military personnel which opened in April 1975 and closed to new joiners on 6 April 2005.
Its members, still the bulk of service personnel, have the right to leave service after 22 years - typically in their early 40s - or after 16 years if they are an officer.
At that point, they receive an early pension plus a tax-free lump sum payment.
They also have the option of surrendering, or commuting, part of that early pension so they receive a bigger lump sum immediately.
In exchange, they receive a lower annual pension until they are 55, at which point their pension is restored to the level it would have been without the commutation.
The problem has arisen because from April 2010, the SPVA should have changed the way it calculated the commuted pension, but in fact failed to do so.
The result was that pensioners choosing that option have been paid lower pensions than they should have been.
A wholesale rectification of the system, the SPVA said, will have to wait until a software upgrade in September or October.