Has China missed a 'rare' opportunity with rare earths?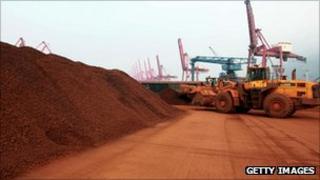 Rare earth will do for China what oil did for Saudi Arabia.
Deng Xiaoping, the former leader of China made this remark two decades ago, but the real extent of its implication is starting to become clear only now.
Rare earths, a group of 17 elements, have become the natural resource of choice in modern-day manufacturing.
We may not realise it but they are becoming an increasingly important part of our day-to-day life.
Take for example europium, which creates the red colour in televisions. Lanthanum is a key component of hybrid car engines. Other members of the group can be found in DVDs, mobile phones, flatscreen TVs and many other devices that we use daily.
China is currently the biggest producer of these elements, with more than 95% share of the global market.
However, it has been playing hardball by tightening its policies in the sector and implementing strict export quotas.
Given China's stand on the issue, one can't help but wonder if it is missing out on a big opportunity.
Why rare earth?
Rare earths have been hogging the limelight recently. The reason is simple - demand for these materials has increased tremendously in the past few years and is expected to surge even further in the years ahead.
Technological innovation has hit a peak in recent times and the world is producing and consuming high-tech devices more than ever before.
The unique magnetic and optical properties of these materials make them a crucial part of almost all modern-day equipment.
Over the past decade the demand for rare earth metals has seen a three-fold increase to 125,000 metric tons a year.
According to analysts, the figure could cross 200,000 tons by 2014.
With China producing the bulk of global supplies, the majority of this is likely to be supplied by the miners there.
However, Beijing has imposed a production cap of 93,800 metric tonnes for 2011 and said it will cut exports of the materials by 10% this year.
That means the world is heading for a demand-supply imbalance.
Environmental protection
China's decision to impose these restrictions has seen it being accused of trying to manipulate the prices and help its miners.
The spike of as much as 600% in prices of some of these materials recently has only added fuel to the fire.
However, China has maintained that it is restricting the mining of rare earths to prevent excessive damage to the environment, a view that some analysts share.
"The rationale is that rare-earth mining is quite a dirty production process," says Matt Robinson of Moody's Analytics.
He explains that the damage caused to the environment in mining and producing these materials is huge and there has to be a price attached to that.
"I don't think that the price of the materials in past years was reflecting that.
"But now that they have realised that, they are restricting the quotas and we are seeing the prices rise."
Worried nations
No matter what the reason or rationale, the move has got nations and corporations worried.
The US Magnetic Materials Association has already issued a stern warning.
"It is estimated that Chinese domestic consumption of rare earth materials will outpace Chinese domestic supply between 2012 to 2015," it said in a report.
China's halt of exports to Japan during a territorial dispute last year didn't help either. Amidst tensions over islands claimed by both Japan and China, Japanese companies reported that China had halted shipments of rare earths minerals.
That instigated panic amongst the Japanese manufacturers, who need these materials to produce everything from smartphones to flatscreens and hybrid cars.
Japan which is the biggest buyer of rare earth materials and accounts for 65% of Chinese exports, reacted by seeking alternate sources of supply.
Tokyo announced a deal with Mongolia, where Japanese firms will assist the search and production of country's rare earth resources.
It also said it will subsidise the mining of rare earth metals in mineral-rich Kazakhstan.
Earlier this year, Japan's Nippon Steel and South Korea's Posco and National Pension Service took up a share of a Brazilian rare metal mining company in a bid to secure supplies.
South Korea is planning to spend 17bn won ($15.7m; £9.6m) by 2016 as part of a long-term plan to secure rare earth reserves.
Missed opportunity?
At the same time, worried by the demand-supply imbalance, high-tech manufacturers have started to look to for alternates to rare-earth materials.
"You are seeing a lot of investment by high-tech firms on research to become less reliant on these materials," says Mr Robinson.
"Japanese manufacturers are developing motors for hybrid cars and air conditioners that no longer rely on rare earth metals in the production process." he adds
Meanwhile, global players have been monitoring the developments and are sensing an opportunity.
Australia's Arafura Resources Limited is raising 1bn Australian dollars ($1.05bn; £643m) for its rare earth project. It is planning to produce 22,000 tons a year of rare earth oxides from 2013 from its mine in the Northern Territory.
Colorado-based Molycorp Inc. has restarted the rare earth mine in California. The mine is the largest in US but was shut in 2002 over environmental concerns.
Sagging prices and an abundance of reserves in China played a major role in it shutting down its operations.
As miners and companies look for alternative sources, China could well see its stranglehold on the sector loosen.
If that happens, rare earth might not do for China what oil did for Saudi Arabia.