Negative equity affects 827,000 households, lenders say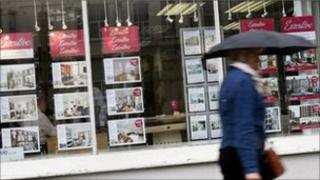 The number of mortgage borrowers in negative equity - where their loan is bigger than the value of their house - is 827,000, lenders have calculated.
The Council of Mortgage Lenders (CML) said the figures, for the first quarter of 2011, suggest the problem is not as great as in the early 1990s.
Then, an estimated 1.6 million households were in negative equity.
The CML said while it made it hard for some people to move home, it did not mean their home would be repossessed.
"Negative equity is much less common than in the 1990s, and in the current cycle low interest rates and a relatively stable employment market are providing more options for borrowers and lenders in difficulty," the CML's director general, Paul Smee, said.
"There is no direct relationship between negative equity and mortgage payment problems.
"What typically causes difficulty for households is not a nominal fall in housing value but an unexpected change in personal circumstances, like the loss of a job or the breakdown of a family relationship," he explained.
First-time buyers
The CML's research shows that fewer than 8% of all mortgage holders are in negative equity.
However, those in this predicament are mainly people who bought a home in 2006, 2007 and 2008, and have thus been affected most by price falls, and first-time buyers who typically put down small deposits.
"Half of negative equity cases relate to loans taken out in 2007, when lending conditions were at their most competitive and house prices at their peak," the CML said.
"Nearly a third of continuing loans from 2007 are in negative equity," it added.
The CML estimates that about 326,000, or 39%, of the current 826,000 negative equity cases are first-time buyers.
In turn, 26% of all current first-time buyers are in negative equity.
"First-time buyers are more vulnerable to experiencing negative equity during a period of softer house prices [and] our latest estimates confirm that first-time buyers do have a materially higher propensity to be in negative equity," the CML said.
The problem is worst in those areas where prices have fallen most in the past few years: Northern Ireland, Yorkshire, Humberside and the north-east of England.
'Phenomenal' wealth
The CML pointed out that despite negative equity suffered by a minority of home buyers, the amount of unmortgaged housing wealth owned in the UK was still "phenomenal".
It estimated that people who own their homes outright, with no mortgage at all, own property worth a total of £1.43tn.
Meanwhile, nearly half of people with a mortgage had one that was worth less than 70% of the value of their homes, giving them an equity cushion of at least 30%.
Another quarter of borrowers had mortgages worth between 70% and 90% of their homes.
The rest had less than a 10% equity stake in their homes.
Thus people with mortgages own homes worth a total of £1.84tn and of that their unmortgaged equity cushion amounts to nearly £800bn.
A previous estimate of negative equity from the CML was published in April 2009.
At the time it showed that 900,000 homes had been in that position in the preceding year.
However, the CML said its latest research was not directly comparable with its previous publication, due to the use of a different methodology.