Factors behind market turmoil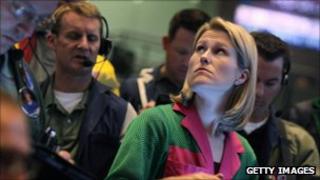 It has been a volatile period for global markets, driven by almost unprecedented uncertainty amongst investors about the global economy and fears that politicians may be unable to fix economic problems.
Recent economic data has suggested the recovery in the West may be petering out, feeding renewed worries about the eurozone debt crisis.
This, it is feared, could in turn cause a second banking crisis if governments are unable to pay back their debts.
And in the face of these twin concerns some investors say policymakers have not done enough to provide certainty about how the crisis will be tackled.
Growth fears
The key factor worrying investors is slowing growth in the US and Europe.
Crisis jargon buster
Use the dropdown for easy-to-understand explanations of key financial terms:
AAA-rating
The best credit rating that can be given to a borrower's debts, indicating that the risk of borrowing defaulting is minuscule.
The International Monetary Fund has warned that the global economy has entered what it calls a "dangerous new phase" of low growth and high public debt.
It significantly reduced its growth forecast for the world's advanced economies, predicting GDP growth of just 1.5% this year.
The US Federal Reserve has also painted a pessimistic picture of the economic outlook.
"There are significant downside risks to the economic outlook, including strains in global financial markets," said the US central bank in a statement.
The US economy created 103,000 new jobs in September, ahead of many economists' expectations. But the jobless rate was stuck at 9.1%, according to latest data from the Department of Labor.
And the US Commerce Department said that the world's largest economy grew at an annualised rate of 1.3% between April and June.
In the eurozone things are little better.
The eurozone's manufacturing sector is still in the doldrums, with output in September falling at its fastest pace in two years, according to Markit's Eurozone Manufacturing Purchasing Managers Index.
Growth in the German economy also slowed sharply between April and June, growing by just 0.1% in the quarter.
The French economy was flat during the same period.
Debt crisis spreading
The concerns about growth have also fuelled worries about the indebtedness of eurozone states.
If economies are not growing, tax receipts fall, making it harder for governments to pay off their debts.
So far Greece, Portugal and the Irish Republic have received international help to deal with their crippling debt problems.
In early October, Italy's credit rating was slashed by Moody's from Aa2 to A2, with the ratings agency blaming a "material increase in long-term funding risks for the euro area" due to lost confidence in eurozone governments' debt.
Italy follows fellow eurozone countries Spain, the Republic of Ireland, Greece, Portugal and Cyprus in having its credit rating downgraded this year.
In July, eurozone leaders agreed a second bailout deal for Greece, and also agreed more powers for the European Financial Stability Fund to help countries struggling with indebtedness.
This allowed the fund to buy government debt (bonds), offer credit to nations in difficulty and created a special facility for recapitalising banks.
It included an agreement by private banks to swap existing Greek debt with longer term debt paying lower interest.
The enlarged eurozone rescue fund was ratified in most of the 17 nations that use the single currency, including Germany.
But Italy's problems in particular meant the July deal was soon seen as insufficient.
Following its role in the Greek bailout, the EFSF was estimated to have just 250bn euros ($350bn, £219bn) left, which was not enough to guarantee lending to a large economy like Italy for more than a year.
In October, European leaders agreed a series of new measures to try to prevent the debt crisis spreading.
The EFSF will be boosted to ensure it can insure loans made to governments such as Italy up to a value of 1tn euros.
In addition banks will have to write off a larger portion of Greek debt.
To prepare them for this and any future losses they will have to increase the capital they hold by more than 100bn euros between them, if necessary with intervention from national governments.
Vulnerable banks
The changes are partly designed to tackle fears that worries over sovereign debt could spill over to the banking sector.
When shares have fallen they have often been led by bank shares as investors worry about what level of eurozone government debt they are holding, and whether this will be repaid.
French banks have come under particular pressure as they hold more than 40bn euros (£35bn) of Greek debt, for example, almost four times more than any other country.
The Institute of International Finance, a global trade body representing big banks and their major lenders, has said the Greek debt swap deal implies a loss for Greek lenders equivalent to 21% of the market value of their debts.
This will now increase to 50%.
If banks were forced to accept similar or greater losses on the debts of other countries it could trigger a new banking crisis, further destabilising the global economy.
Meanwhile, there has also been concern about the US's ability to repay its debts, with Congress agreeing on a deficit reduction plan only at the 11th hour.
This delayed deal also led to the credit-rating agency Standard & Poor's cutting the long-term US rating by one notch from AAA to AA+ for the first time.
Lack of leadership
Analysts have also questioned the lack of strong leadership coming out of the US and Europe.
The G20 group of leading economies has said it is ready to "take action" to stabilise global markets.
But there is disagreement as to what form that action would take. A statement is expected during its next meeting at the start of November.
Any global action will be based on steps taken at a regional and national level.
With deficits already at record highs, governments have very limited room to manoeuvre.
US President Barack Obama has unveiled a $450bn (£282bn) package of tax cuts and spending plans aimed at creating jobs and bolstering the economy. But the plans have run into trouble in Congress.
European leaders are under particular pressure to provide long-term stability for the single currency.
October's expansion of the EFSF, recapitalisation of the banks and further write-off of private sector Greek debt are designed to provide that sort of reassurance.
EU leaders also agreed a further 130bn euros bailout for Greece, some of which will be used to assist with the further write-off of Greek government debt.
However, announcing the latest deal, European Commission President Jose Manuel Barroso admitted that this was unlikely to be the last package they provided.
"I've said it before and I'll say it again, this is a marathon not a sprint," he said.
While the package may reassure investors, questions remain about how it will be funded.
It is not yet clear who will fund the expansion of the EFSF if the loans it insures are not paid back.
The recapitalisation of the banks and the write-off of Greek debt have are not yet been explained in detail.