How close is Credit Crunch 2?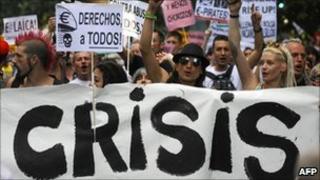 You'll recall I recently wrote that Royal Bank of Scotland was likely to take a charge equivalent to 50% of its lending to the Greek government.
Well, in its results on Friday that will be confirmed.
RBS's impairment charge for Greek exposure will be around £840m, which represents 50% of its holding of Greek government bonds and a separate charge relating to an out-of-the-money interest rate swap (please don't ask, or we'll be here some time).
Now I can't explain why RBS is charging 50% of its gross exposure rather than the lower 50% of net.
But what is significant is that its provision for these Greek sovereign loans going bad is much bigger in percentage terms than the 21% charge recently taken by Societe Generale and BNP Paribas of France.
Why the difference between RBS and the French banks?
Well the French banks are assuming that the recent Greek rescue programme - which involves banks and other investors swapping their holdings of Greek government debt for paper implicitly worth 21% less - is going to happen.
They may be right. But as the EU Commission president Jose Manuel Barroso wrote to government heads on Thursday, the rescue package is some way from being implemented.
And with funding costs for the Italian and Spanish governments continuing to rise to dangerous levels, and equity markets falling sharply, goodness only knows how eurozone governments will respond (though presumably they will take evasive action).
Contagion
What is increasingly clear, as Morgan Stanley's banks' team have been pointing out, is that a crisis of confidence in the sovereign debt of Greece, Portugal, Ireland and - latterly - Italy and Spain is causing growing funding difficulties for banks.
Last month Morgan Stanley wrote that it thinks "the risk of a credit crunch in Southern Europe is growing".
Some warn that the risk is a reality - and there's contagion to banks in northern Europe, including our own. Few analysts believe that the European Central Banks' provision of emergency six month loans to eurozone banks is an adequate response
Which explains, in part, why shares Lloyds fell more than 10% today, and share in Barclays fell just under 8%.
Here's a phrase I haven't used for almost three years, but seems ripe for revival: we're in a for a hair-raising few days.