Wall Street and global markets tumble on debt fears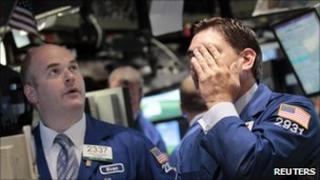 Wall Street had its worst day for almost three years as shares tumbled on fears about the eurozone debt crisis and the US economic recovery.
The Dow Jones index closed down more than 500 points, or 4.3%, and came after the leading European bourses fell more than 3%.
It was the biggest one-day fall for the Dow since December 2008.
Earlier, European Commission President Jose Manuel Barroso warned that the sovereign debt crisis was spreading.
Also in New York, the S&P 500 index fell 4.8% and the tech-rich Nasdaq was more than 5% lower.
Meanwhile, Frankfurt's Dax and London's FTSE 100 indexes had their worst day this year, closing almost 3.5% lower as investors fretted that Italy and Spain might become engulfed in the debt crisis.
"People are throwing in the towel because they can't find relief on any front," said Milton Ezrati, market strategist at Lord Abbett.
Investors sought the relative safety of gold, sending the price of the metal to a new record high of $1,677 an ounce.
Bank shares hit
More weak jobs data from the US also raised concerns about the strength of the economic recovery there.
Wall Street's financial power houses were hit hard, with JP Morgan and Bank of America falling 5% and 7.4% respectively.
In Europe, Lloyds Banking Group fell 9.9% and Royal Bank of Scotland was down 7%. France's Societe Generale lost 6.9% and Germany's Commerzbank dropped 6.8% in Frankfurt.
Miners also suffered, with Vedanta Resources slumping 9.5% and Xstrata and Eurasian Natural Resources falling more than 8% in London.
The oil price also slumped on fears that a weaker global recovery would hit demand. Benchmark West Texas crude for September delivery fell $5.30, or 5.8%, to $86.63 a barrel. Brent crude fell 5.3% to $107.25.
Since 21 July, the Dow has lost more than 1,300 points, or 10.5% of its value, and Thursday's fall was the index's ninth-steepest decline ever.
'Exceptional circumstances'
In a letter to European governments, Mr Barroso warned that the eurozone debt crisis was spreading beyond the so-called periphery nations of Greece, Portugal and the Republic of Ireland.
He said markets "remain to be convinced that we are taking appropriate steps to resolve the crisis".
He called on them to give their "full backing" to the euro, and urged leaders to take swift action to implement the changes to the European Financial Stability Fund (EFSF) agreed at last month's summit of eurozone leaders.
The EFSF is essentially Europe's rescue fund, which leaders agreed should be able to buy government debt in "exceptional financial market circumstances".
Reports suggested that the European Central Bank (ECB) had already begun buying government bonds to help support countries with high borrowing costs.
At a press conference to announce the bank was keeping eurozone rates on hold at 1.5%, ECB President Jean-Claude Trichet merely said the process of buying bonds was "ongoing" and fully transparent.
Higher rates
Mr Trichet's and Mr Barroso's comments came as fears grew that Spain and Italy may be dragged into the debt crisis.
On Thursday, the interest rate, or yield, that Spain had to agree to pay to raise 2.2bn euros ($3.1bn; £1.9bn) for three years rose sharply to 4.8% from 4% at a similar bond auction in early June.
This reflects heightened concerns about Spain's ability to repay its debts.
Spain also said it had suspended a bond auction due for 18 August.
However, analysts said demand for Thursday's bond issue was strong and despite the rise in rates, suggested 4.8% was a sustainable rate of interest for Madrid to pay.
Yields in the secondary market, on Italian government bonds as well as Spanish, did not move significantly higher despite the auction.
In Italy, Prime Minister Silvio Berlusconi continued his attempts to calm the markets, which began with a speech on the economy to parliament on Wednesday.
Mr Berlusconi met union leaders and employers' representatives, and pledged a number of measures to try to increase confidence in the Italian economy.