Kraft to split into two companies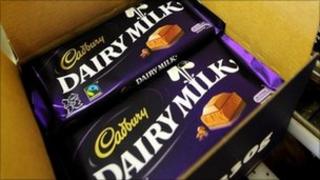 US food giant Kraft has announced plans to split into two independent companies by the end of next year.
A global snacks business, with estimated revenues of $32bn (£19.6bn), will include Trident gum, Oreo biscuits and Cadbury.
The other company, a North American food business with revenues of $16bn, will take in brands including Kraft and Philadelphia cheeses, and Capri Sun.
Kraft also reported a rise in profits for the second quarter to $976m.
This is 4% higher than the $939m the company made a year earlier. Revenues for the quarter rose 13% to $13.9bn.
'Logical step'
Kraft said its business had naturally grown in two different directions, that "now differ in their future strategic priorities, growth profiles and operational focus".
It said its snack food business was focused on fast-growing, developing markets, while its grocery business was primarily focused on growing revenue in North America.
It said that creating two independent companies was the "next logical step".
"We have built two strong, but distinct, portfolios," said Kraft's chief executive Irene Rosenfeld.
"Our strategic actions have put us in a position to create two great companies, each with the leadership, resources and strong market positions to realise their full potential."
Kraft has made a number of acquisitions in recent years, including LU Biscuits from French food group Danone and the controversial takeover of Cadbury in the UK.
The plan to split into two companies needs to be approved by the board. If agreed, Kraft said it would take at least 12 months to restructure.