ECB offers more loans to banks and keeps rates on hold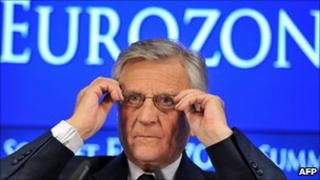 The European Central Bank (ECB) has said it will offer a fresh round of loans to banks in light of continuing fears about the eurozone debt crisis.
"Given the renewed tensions in some financial markets, [the ECB] has decided to conduct a supplementary refinancing operation," said the bank's president, Jean-Claude Trichet.
He added that economic uncertainty was "particularly high"'.
Earlier, the ECB kept eurozone interest rates on hold at 1.5%, as expected.
Mr Trichet would not comment on whether the ECB was actively buying government bonds to help support countries with high borrowing costs, other than to say the process was ongoing and fully transparent.
The market would know as and when any bonds were purchased, he said.
However, reports suggested the ECB had entered the market to buy government debt.
Rising prices
The bank raised rates to 1.5% from 1.25% last month to try to cool rising prices in the 17 eurozone countries.
The ECB started increasing rates in April, when they were raised from 1% to 1.25%.
Figures released last week showed that inflation in the eurozone slowed unexpectedly in July to 2.5%, down from 2.7% in June.
However, Mr Trichet said the bank expected inflation to remain "clearly" above its target rate of just below 2% over the coming months, partly due to higher energy and commodity prices.
Acknowledging a slowdown in eurozone economic growth in recent months, he added that "continued moderate expansion is expected in the period ahead".
Earlier on Thursday, the Bank of England kept UK rates at a record low of 0.5%. UK rates have been held at this level for more than two years.
Debt crisis
The decision to hold rates comes as concerns about the eurozone debt crisis are resurfacing, as attention returns to the bloc following an agreement in the US to raise the country's borrowing limit and cut spending.
On Thursday, the interest rate that Spain had to agree to pay to raise 2.2bn euros ($3.1bn; £1.9bn) for three years rose sharply to 4.8% from 4% at a similar bond auction in early June.
This reflects heightened concerns about Spain's ability to repay its debts.
However, analysts said demand for the latest bond issue was strong and despite the rise in rates, suggested 4.8% was a sustainable rate of interest for Madrid to pay.
European Commission President Jose Manuel Barroso also warned that the sovereign debt crisis was spreading beyond the periphery of the eurozone.
In a letter to European governments, he called on them to give their "full backing" to the euro currency zone.
On Wednesday, Italian Prime Minister Silvio Berlusconi gave a speech in parliament to try and reassure investors that the country would not be drawn into the debt crisis.