PPI costs push Lloyds into loss as banking shares fall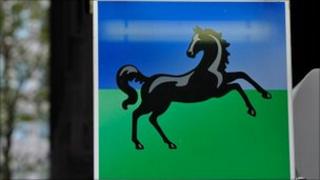 The cost of compensating customers who were mis-sold payment protection insurance pushed Lloyds to a £3.3bn loss for the six months to 30 June.
The bank, which is 41%-owned by the UK government, said in May it was putting aside £3.2bn to cover PPI mis-selling.
Lloyds' shares closed down 10% as UK banks suffered from worries about the European economy.
Excluding one-off expenses, the High Street bank reported a decline in pre-tax profit to £1bn from £1.6bn in 2010.
The fall in underlying profits was partly down to larger than expected losses on its loans in the Irish Republic and reduced loan income.
Lloyds recently announced 15,000 job cuts. It brings the total number of job cuts announced since the merger with HBOS (Halifax Bank of Scotland) in 2009 to 43,000.
Lloyds' £3.2bn PPI compensation bill is the largest of any UK bank. Barclays is setting aside £1bn, RBS £850m and HSBC £269m.
Share worries
Lloyds was not the only bank to see its shares fall sharply. In early afternoon trading in London, shares in Barclays shares were down more than 6.5% and Royal Bank of Scotland was 5.5% lower.
Bank shares fell on concerns that the eurozone debt crisis is spreading to Italy and Spain, and on worries that growth prospects remain weak.
"The problem is Lloyds' main exposure is to the UK and there are figures that suggest the UK economy isn't setting itself alight," said Chris Roebuck from the Cass Business school.
Irish losses
Overall the bank said it had cut its impairment costs for bad loans by 17% to £5.4bn.
However, the Irish debt crisis saw the bank's international unit report a £2.1bn loss due to the risks of its Irish debt not being paid back.
The impairment charge for the Irish Republic increased to £1.8bn from £1.6bn last year as Lloyds allowed for further falls in Irish property prices.
However, the charge was lower than the second half of last year.
In total the bank says 64.1% of its loans to the Irish economy are now impaired.
Economic uncertainty
New chief executive Antonio Horta-Osorio said the bank faced difficult conditions.
"Ongoing challenges of economic and regulatory uncertainty, the effects of which, including subdued loan demand, financial market volatility, and increasing regulatory capital and liquidity requirements, are reflected in these results," he said.
Within its retail division the bank lent less money to customers, with total lending down 2%. Lloyds said margins from interest on its loans also fell.
Partly because of this, underlying revenues, excluding the PPI charge, were down on the same period last year.
"People are simply not buying new cookers, not buying new extensions, not buying new cars, so we shouldn't be surprised that a retail bank like Lloyds is suffering," said Ralph Silva, a banking analyst at SRN.
However, Lloyds said it was "on track" to meet its Project Merlin commitment to lend more to businesses.
It said it had lent £21.2bn in the first half of the year, of which £6.7bn went to small and medium-sized companies.
Branch sales
Lloyds is currently looking to sell off 632 branches as part of an agreement with EU regulators following the merger and £20bn bailout.
The bank confirmed it had received "a number of credible initial approaches" for the branches and hoped to have a buyer by the end of the year.
Lloyds is reported to be in talks with six companies of which two - new bank venture NBNK and Co-Op Bank - have formally expressed interest.